The Academic Minute for 2016.08.29-09.02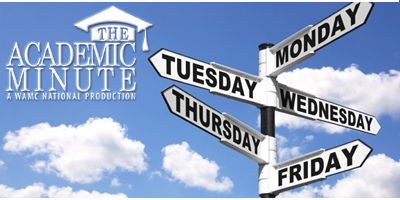 Academic Minute from 8.29 – 9.02
Monday, August 29th
Sasha Dall – University of Exeter
Genes As Cues For Development
The primary aim of my research is to explore how animals cope with the unexpected opportunities and dangers they face in their day-to-day lives. To this end, I study how animals collect and provide information to reduce uncertainty about significant events, or how they insure against it, along with evolutionary and ecological consequences of such risk management. Research in my group ranges from the development of explicit theoretical (mathematical and computational) models, through work on captive birds in aviaries (zebra finches, starlings) to work in the field with birds (pied flycatchers, barn swallows, red grouse, European shags, chestnut-crowned babblers) and mammals (badgers, lions, wolves, grey squirrels). I am also a (senior) Editor for Proceedings of the Royal Society of London – Biological Sciences.
Tuesday, August 30th
Peter Weiss – University of California Santa Cruz
Mercury in California's Fog
Peter Weiss-Penzias has been a Researcher in Environmental Toxicology at University of California at Santa Cruz since 2008.  His research is focused on the atmospheric chemistry of mercury, a naturally occurring element, but one that is released to the atmosphere by human activity and is able to persist and bioaccumulate as methylmercury in food webs to levels that pose health risks to humans and wildlife.  The central questions in this field have to do with the emissions of mercury to the atmosphere, and the mechanisms and lifetime of atmospheric removal.  The research of Dr. Weiss-Penzias has made a key finding in this regard by demonstrating a link between the emission of methylmercury from the coastal ocean and the presence of methylmercury in coastal marine fog in California.  His work is supported by the National Science Foundation and the Environmental Protection Agency.  He has published his work in journals such as Atmospheric Chemistry and Physics, and Environmental Science and Technology.  His work can be found on the web under the search term: fognet.

Wednesday, August 31st
Joseph Dwyer – University of New Hampshire
Lightning
Joseph Dwyer received his PhD in physics from the University of Chicago in 1994, working on cosmic-ray astrophysics. He worked as a research scientist on gamma-ray astronomy and space physics at Columbia University and the University of Maryland before joining the faculty at Florida Tech in 2000. In 2002 he became interested in lightning physics and in 2003 helped establish that lightning emits bright bursts of x-rays. He has since made contributions to terrestrial gamma-ray flashes (TGFs), terrestrial electron beams (TEBs) in the inner magnetosphere, x-rays from laboratory sparks, and relativistic feedback discharges (aka dark lightning), helping establish the new field of high-energy atmospheric physics. Dwyer served as head of the Physics Department at Florida Tech before moving to the University of New Hampshire in 2014. He is now Professor and Peter T. Paul Chair in Space Sciences Space Science Center (EOS) and the Department of Physics at UNH.

Thursday, September 1st
Mary Caton-Rosser – Black Hills State University
Use of Online Technologies in Higher Education
Mary Caton-Rosser (PhD, University of Colorado) is Associate Professor of Mass Communication at Black Hills State University and advisor of award-winning Jacket Journal student news, BHSUmedia.com and the BHSU Public Relations Club. Her research interests address media literacy among citizen/community populations, exploring how the cultural, political, and economic issues of globalizing society affect diverse groups of learners through and with media. She is currently examining online media literacy through the use of Web 2.0 social media formats. Prof. Caton-Rosser was previously an independent journalist and educational publishing consultant, and corporate media executive of the photography, film and cable television industries. She has developed community-based programs for youth and adults using print, broadcast and new media.
Friday, September 2nd
Robert Edgell – SUNY Polytechnic Institute
Health & A.I.
Dr. Robert Edgell is an Assistant Professor of Technology Management at SUNY Polytechnic Institute and a Visiting Professor at the Swiss Business School in Zurich. Previously, he was a professor at American University's Kogod School of Business and has taught at San Francisco State University's College of Business.
His current scholarly research focuses on a range of interdisciplinary topics including media as a lever for corporate governance, responsible innovation and harm (in collaboration with colleagues from Stanford University Law School), top management team creativity processes, and entrepreneurial social impact.
Dr. Edgell received his Ph.D. in international multicultural management (magna cum laude) from the University of St. Gallen (AACSB accredited). He holds an MBA fromColumbia University Business School in the City of New York and a Bachelor of Architecture (5 year degree, cum laude) from Kent State University. Through Columbia's Chazen Institute of International Business, he studied at the Rotterdam School of Management in The Netherlands. He is a registered architect and has studied at Harvard's Graduate School of Design.