Guillermo Aguilar, University of California Riverside – A Window to the Brain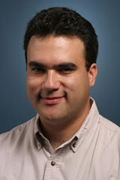 Scientists are developing an actual window to the brain.
Guillermo Aguilar, professor in the department of mechanical engineering at the University of California Riverside, discusses transparent skull implants and how they can give scientists a chance to deliver better treatments to their patients.
Professor Guillermo Aguilar received his Bachelors degree in Mechanical and Electrical Engineering from the National Autonomous University of Mexico (UNAM) in 1993, and his Masters and Doctor of Philosophy degrees in Mechanical Engineering from the University of California, Santa Barbara in 1995 and 1999, respectively.
A Window to the Brain

Laser-based treatments have shown promise for many brain disorders. However, since most medical lasers are unable to penetrate the skull, realization of this promise has been restricted by the need to remove a portion of the skull to access the brain each time a treatment is needed.
For the past five years, my colleagues and I have been developing a transparent skull implant that literally provides a 'window to the brain.' The technology will allow doctors to deliver multiple laser-based treatments to patients with life-threatening neurological disorders, including cancers, traumatic brain injuries, Alzheimer's disease and stroke.
The project began when we developed a transparent version of the material yttria-stabilized zirconia or YSZ)—which is the same ceramic product used in hip implants and dental crowns.
The internal toughness of this material, which is more impact resistant than glass-based materials under development by other researchers, makes it the only transparent skull implant that could conceivably be used in humans.
Our most recent studies have shown that YSZ is biocompatible, which means it can be integrated into a patient's tissue without eliciting an immune response. In fact, it is as or more biocompatible than the non-transparent titanium or thermo-plastic polymers that are currently used when patients require skull implants.
We also showed recently that the transparency of the implant could be exploited to mitigate bacterial infections, which are common after cranial implants, using laser therapy. These infections are especially challenging to treat because many antibiotics do not penetrate the blood brain barrier.
Our long term goal is to see the technology become the standard of care for patients with brain disorders who would benefit from laser-based treatments.