The Academic Minute for 2017.4.24-4.28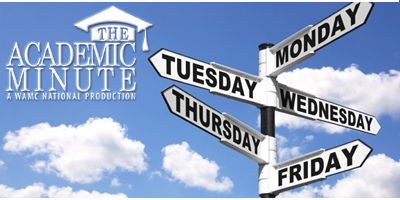 Academic Minute from 4.24 – 4.28
Monday, April 24th
Adam Klein – Pace University
Hate Groups Go Online
Dr. Klein is the recent author of Fanaticism, Racism, and Rage Online: Corrupting the Digital Sphere (Palgrave Macmillan, 2017).  His work on radical voices in global media and politics has included studies on the white power movement, terrorist networks, hacktivists, and authoritarian press systems.  He has also been a contributor to the academic news site, The Conversation. His articles have appeared in Salon, New Republic, Business Insider, and Raw Story. He earned his Ph.D. in Mass Communication & Media Studies from Howard University.
Tuesday, April 25th
Joanna Huxster – Bucknell University
Partisan News' Impact on Climate Change Perception
Joanna earned her Ph.D. in Marine Studies with concentrations in marine policy and climate change communication at the University of Delaware. Her research interests are public understanding of climate change and science, climate change communication, and public opinion on ideologically polarized science. She currently works with the Production of Public Understanding of Science project at Bucknell. The research presented here was completed during her time as a Visiting Research Professor at Drexel University working with Dr. Robert Brulle and Dr. Jason Carmichael (McGill University). This work was published in the journal Climatic Change. In the fall of 2017, Joanna will begin as an Assistant Professor of Environmental Studies at Eckerd College.

Wednesday, April 26th
Russell Golman – Carnegie Mellon University
Information Avoidance
I was trained as a game theorist with a Mathematics Ph.D. from the University of Michigan.  But whereas game theorists usually assume that people making strategic decisions are hyper-rational, I try to acknowledge that real people sometimes make mistakes.  Since coming to Carnegie Mellon, a hotbed for behavioral economics and behavioral decision research, my research interests have expanded in these directions.  I use economics, psychology, and mathematics to develop theories about why people make the choices they make.

Thursday, April 27th
Neil Garrett – Princeton Neuroscience Institute
Dishonesty
I am a Postdoctoral Researcher in the Daw Lab at Princeton Neuroscience Institute. Before this, I received my Ph.D from the department of Experimental Psychology at University College London (UCL) in the Affective Brain Lab under the supervision of Tali Sharot. This explored how valence – whether a piece of news is good or bad – influences the extent to which information is integrated and used to revise beliefs about ourself, our future and the future of those around us. Recently I have been pursuing a separate strand of research examining the role of emotional adaptation in aversive decision making (find out more about this here). I am excited to continue these areas of research and others at Princeton using a combination of complimentary approaches from computer science, behavioural economics and brain image.
Friday, April 28th
Matthew Johnson – University of Alberta
Self-Esteem, Depression and Your Partner
My research program is centered on understanding intimate relationship development from the transition to adulthood into midlife, with a focus on identifying the behaviors and beliefs that contribute to relational and individual health. The unifying theme, and most substantive scholarly contributions, of my research program involve challenging, testing, and refining widely accepted theoretical frameworks with cutting edge quantitative methods. I am primarily involved with two research projects.
Shortly after starting at the U of A, I was invited to join the research team for the Edmonton Transitions Study (ETS), which surveyed over 900 (at baseline) Edmontonians seven times from age 18 to age 43. The original aim of this project was to understand the transition from school to work, but as the participants aged, the focus shifted to other transitions over the life course, such as forming a committed intimate union and having children. This study received an Insight Grant from the Social Sciences and Humanities Council of Canada (SSHRC) to develop a series of manuscripts using these 25 year longitudinal data. I am a co-investigator on this project with Drs. Harvey Krahn and Nancy Galambos. I have developed manuscripts with these data examining how the development of mental health over the crucial transition to adulthood developmental stage (ages 18 to 25) is associated with couple relations decades later in midlife (Johnson, Galambos, & Krahn, 2014; 2015) and the interrelation between self-esteem and symptoms of depression over time (Johnson, Galambos, & Krahn, in press).