The Academic Minute for 2017.2.20-2.24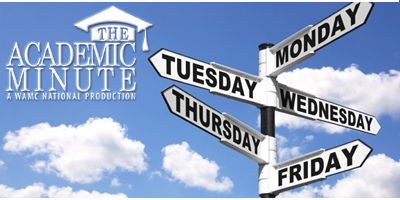 Academic Minute from 2.20 – 2.24
Monday, February 20th
Christopher Salas-Wright – University of Texas at Austin/Boston University
Immigrant Mischaracterization
2016-present Assistant Professor School of Social Work, Boston University 2013-2016 Assistant Professor School of Social Work, The University of Texas at Austin 2015-2016 Faculty Research Associate Population Research Center, The University of Texas at Austin 2013-2016 Faculty Affiliate Lozano Long Institute of Latin American Studies (LLILAS), The University of Texas at Austin 2012-2013 Instructor Boston College, Graduate School of Social Work.
Tuesday, February 21st
Peggy Albers – Georgia State University
Children & Stories
Peggy Albers is a professor of language and literacy education in the College of Education & Human Development at Georgia State University. She teaches literacy and English education courses at the graduate level and works with pre-service and in-service teacher education in the fields of literacy education and English education. She is also the Ph.D. coordinator for the Language and Literacy unit. Her current interests are semiotics, children's literature, English education, the multimedia, and doctoral preparation. She also hosts an open access web seminar series called Global Conversations in Literacy Research. She is a co-editor of Language Arts, the premiere journal for the teaching of the language arts pre-K – grade 8.
Wednesday, February 22nd
Matt DeLisi – Iowa State University
Homicidal Ideation
Matt DeLisi is Coordinator of Criminal Justice Studies, Professor in the Department of Sociology, and Faculty Affiliate of the Center for the Study of Violence at Iowa State University. Professor DeLisi's primary research interests include criminal careers/career criminals, self-control theory, corrections, psychopathy, and the molecular/behavioral genetics of antisocial behavior, and he is a member of the American Association for the Advancement of Science, Academy of Criminal Justice Sciences, and Association for Psychological Science.

Thursday, February 23rd
Ameae Walker – University of California Riverside
Vaccinating Babies Against Tuberculosis
Research in my laboratory is concerned with the growth factor activities of the hormone prolactin. These growth factor activities occur in many tissues including the pituitary, breast, endocrine pancreas, liver, prostate, and cells of the immune system. Although most prolactin is produced by the pituitary, some is produced in these other tissues where it may act as an autocrine or paracrine growth factor. In four of these tissues we have demonstrated antagonism between unmodified and phosphorylated prolactin in the regulation of growth, an antagonism which can be disturbed, leading to abnormal cell proliferation. In the case of the prostate, we have demonstrated that a molecular mimic of phosphorylated prolactin effectively inhibits metastases and growth of the primary tumor of late stage human prostate cancer cells in an animal model. Clinical trials will begin shortly. Other projects include effects of the molecular mimic on the development and progression of breast cancer and pituitary tumors. Thus we investigate the posttranslational modification of prolactin, the regulation of prolactin release, prolactin-receptor interactions, signal transduction and effects on gene transcription in each of these tissues. The laboratory uses a wide spectrum of techniques ranging from microscopy to molecular biology to whole animal physiology, each of which may be applied to answer a particular question.
Friday, February 24th
Joel Cohen – University of Chicago
Tornado Outbreaks
I use mathematics, statistics, and computation to understand populations of single or multiple types of individuals. Quantitative techniques include products of random matrices, non-negative decompositions of nonnegative matrices, random graphs (directed and undirected), eigenvalue inequalities, and various stochastic processes. Recently I have been working on Taylor's power law of fluctuation scaling. My biological interests include human populations (fertility, mortality, and migration), infectious diseases, food webs, and animal behavior—and variability in all of these areas.