Peggy Albers, Georgia State University – Children & Stories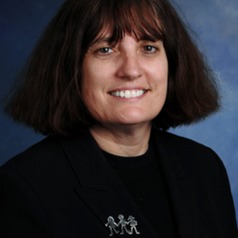 Children love stories, but need hear them told from various perspectives.
Peggy Albers, professor of language and literacy education in the College of Education & Human Development at Georgia State University, explains the danger of single stories and why children need to hear different views about the world.
Peggy Albers is a professor of language and literacy education in the College of Education & Human Development at Georgia State University. She teaches literacy and English education courses at the graduate level and works with pre-service and in-service teacher education in the fields of literacy education and English education. She is also the Ph.D. coordinator for the Language and Literacy unit. Her current interests are semiotics, children's literature, English education, the multimedia, and doctoral preparation. She also hosts an open access web seminar series called Global Conversations in Literacy Research. She is a co-editor of Language Arts, the premiere journal for the teaching of the language arts pre-K – grade 8.
Albers has published her research and work widely in journals such as Language Arts, English Education, Journal of Adolescent and Adult Literacy, Journal of Literacy Research, and Journal of Early Childhood and Elementary Education. She has published four books (two edited): New methods in literacy research (2013, Routledge; with Teri Holbrook, Amy Seely Flint); Literacies, the arts, and multimodality (2010, NCTE; with Jennifer Sanders); Finding the artist within: Creating and reading visual texts in English language arts classrooms (2007); and Telling pieces: Art as literacy in middle school classes (2000, Lawrence Erlbaum Associates; with Sharon Murphy).
Children & Stories

Stories are one of the most fundamental ways in which we communicate. A range of studies have shown how stories shape children's perspectives on the world and perceptions of reality, often before the age of five. Nigerian novelist Chimamanda Adichie gave a talk on the danger of a single story as it creates stereotypes, and the problem with stereotypes is not that they are untrue, but that they are incomplete. They make one story become the only story." Reading stories aloud, as a shared experience, can provide children with an opportunity to ask questions around race, gender, religion, and social issues like bullying. Scholars have shown how stories can be used to change children's perspectives about their views on people in different parts of the world, and influence how they choose to act in the world.
Children need stories to help them understand theirs and others experiences. When children are read aloud to and read stories about a range of cultures, scholars have shown that children develop empathy and cultivate imaginative and divergent thinking, thinking that generates a range of possible ideas. A good story, scholar Charlotte Huck said, is one that that has characters that readers can "admire or feel you could crawl into their skin."
At a time when children are being exposed to negative and single stories about race, culture, religion, most notably from the political leaders and those who serve with them, the need for children to read, see, hear and talk about global stories that counter and challenge such single narratives is, I would argue, critically important.