Matthew DeLisi, Iowa State University – Homicidal Ideation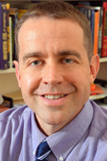 To understand why some commit crimes, get inside their head.
Matthew DeLisi, professor in the department of sociology at Iowa State University, determines if homicidal ideation is a factor in whether some criminals commit more serious crimes.
Matt DeLisi is Coordinator of Criminal Justice Studies, Professor in the Department of Sociology, and Faculty Affiliate of the Center for the Study of Violence at Iowa State University. Professor DeLisi's primary research interests include criminal careers/career criminals, self-control theory, corrections, psychopathy, and the molecular/behavioral genetics of antisocial behavior, and he is a member of the American Association for the Advancement of Science, Academy of Criminal Justice Sciences, and Association for Psychological Science.
Professor DeLisi is among the most prolific criminologists in the world with over 200 scholarly publications since earning his doctorate in 2000. A leading scholar in the study of pathological antisocial behavior and co-founding member of the Biosocial Criminology Research Group, Dr. DeLisi is also among the most cited criminologists of his age cohort (h-index = 26, g-index = 45, i10 index = 73). Professor DeLisi is reviewer for more than 80 journals and funding agencies in the fields of criminology and criminal justice, psychology, psychiatry, pediatrics, medicine, and public health. His research has been featured in The New York Times, Time, Forbes, US News and World Report, Newsweek, Scientific American, Chronicle of Higher Education, Psychiatric News, Science Daily, Medical News Today, Science Codex, Washington Post, and many other media and science outlets
Homicidal Ideation

Everyone has likely uttered the phrase "I could have killed so and so" but the phrase is meant merely to express frustration and not a serious threat. For some serious criminal offenders, thoughts about killing someone are enduring and associated with many forms of crime. Surprisingly, criminologists have largely ignored the study of homicidal ideation.
Along with my colleagues with United States Probation and Pretrial Services, we explored the prevalence of homicidal ideation among a population of federal correctional clients. Homicidal ideation was rather rare with 3% of clients exhibiting some evidence and 9% exhibiting definite evidence of it based on psychological and psychiatric reports in the offenders' files. Although it was relatively rare, offenders with homicidal ideation were significantly more likely to commit murder and other serious crimes such as kidnapping, armed robbery and assault.
Our research also shows that offenders with homicidal ideation were first arrested about a decade earlier than offenders without it. They also had much more chronic and severe criminal careers including about three times more arrests and performed much worse while on probation and parole.
They also much more likely to have been diagnosed with oppositional defiant disorder and conduct disorder during childhood, antisocial personality disorder during adulthood, and display Intermittent Explosive Disorder and Schizophrenia. However, it is important to note that homicidal ideation is not a byproduct of these conditions and stands alone as an explanation for serious crimes.
Given these powerful effects, more research is needed. It's important to understand these offenders because they commit so many more severe crimes. These findings could be very important to criminal justice practitioners who supervise and manage correctional clients. Considerable caution and security should be used when dealing with offenders with homicidal ideation, for they are among the most volatile and violent of offenders.