The Academic Minute for 2016.07.25-07.29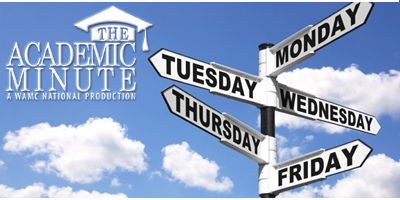 Academic Minute from 7.25 – 7.29
Monday, July 25th
Jonathan Wynn – University of Massachusetts Amherst
Festivals
Jonathan Wynn works at the intersection of urban and cultural sociology. His two major publications are The Tour Guide: Walking and Talking New York (2011, University of Chicago Press, Fieldwork Encounters and Discoveries Series) and Music/City (2015, University of Chicago Press). His work has also been published in City & Community, Qualitative Sociology, Sociological Forum, Cultural Sociology, and Contexts Magazine, and an article in Ethnography called "Hobo to Doormen: The Characters of Qualitative Analysis, Past and Present."
His forthcoming book, Music/City: Festivals and Culture in Great American Cities, is a comparative, multi-method analysis of three music festivals (the Country Music Association Festival in Nashville, the "Dunkin&rsquo Donuts" Newport Folk Festival, and the South by Southwest festival in Austin, Texas). The book details the interrelationship between festivals and their cities, marking how they support and exploit each other through these internationally recognized events with rich description and interviews from a wide array of key urban and cultural placemakers. The book culminates with an argument for temporary events as critical to the culture of cities and their communities.
He also working on an Urban Culture primer (co-authored with Andrew Deener) that is under contract with the Oxford University Press.
Jonathan Wynn was recently the co-editor of the ASA Culture Section Newsletter (with Claudio Benzecry and Andrew Deener) between 2011–2014 and was a regular contributor to Everyday Sociology in 2011–2014. On campus, he serves on the Common Read Book Committee.
Tuesday, July 26th
Henna Riika Peltola – University of Jyvaskyla
Sadness in Music
Henna-Riikka Peltola graduated from secondary school in Savonlinna art high school in 2002. After high school, he continued his music studies in the first Conservatoire of Kuopio, which was completed ensemble and orchestral musician in 2005, and since then Jyväskylä University of Applied Sciences (2005-2009), musician (AMK), majoring in classical singing. Peltola completed a master's degree from the University of Jyväskylä in 2011, majoring in musicology. In addition to musician's work Henna-Riikka Peltola has been working on a project worker Eino Roiha Foundation, as well as doctoral students at the University of Jyväskylä Department of Music in 2012-2015. Currently, Peltola serves as a teacher of music at the University of Music in science subjects.
Wednesday, July 27th
Andrew Ching – University of Toronto
Publicity and Paid Advertisements
Andrew Ching is Associate Professor of Marketing at Rotman. He is a winner of the Young Economist Award from the European Economic Association in 2003, and received Honorable Mention for the Dick Wittink Prize Award in 2011. His research is focused on developing new empirical models and estimation methods to understand choices of consumers, firms and managers. His papers are published in Econometrica, Management Science, Journal of Applied Econometrics, International Economic Review, International Journal of Industrial Organization, Quantitative Marketing and Economics, and Journal of Banking and Finance.
Thursday, July 28th
Joshua Rothman – University of Alabama
A New Portrait of Slavery Emerges
Joshua D. Rothman is Professor of History and Director of the Frances S. Summersell Center for the Study of the South at the University of Alabama. He is the author, most recently, of Flush Times and Fever Dreams: A Story of Capitalism and Slavery in the Age of Jackson (2012), and is currently working on a book about the slave traders Isaac Franklin, John Armfield, and Rice Ballard.
Friday, July 29th
Martin Krieger – University of Southern California
Clusters
Martin Krieger's current work is on defense and military policy, and on uncertainty and ambiguity. He has done social-science informed aural and photographic documentation of Los Angeles, including storefront houses of worship and industrial Los Angeles. Professor Krieger has won three consecutive Mellon Mentoring Awards, for mentoring undergraduates, faculty, and graduate students. Professor Krieger has worked in the fields of planning and design theory, ethics and entrepreneurship, mathematical models of urban spatial processes, and has explored the role of the humanities in planning. His nine published books describe how planning, design, and science are actually done. Professor Krieger has been a fellow at the Center for Advanced Study in the Behavioral Sciences and at the National Humanities Center, and is a Fellow of the American Physical Society. He has received grants from a variety of foundations, and has served as the Zell/Lurie Visiting Professor of Entrepreneurship at University of Michigan's Business School. He joined the USC faculty in 1984. Professor Krieger often helps doctoral students, as well as undergraduates and masters students, focus and formulate their research projects