Suniya Luthar, Arizona State University – Mothers of Tweens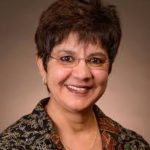 The most stressful times in a mother's life might be later than you think.
Suniya Luthar, foundation professor of psychology at Arizona State University, discusses into when a mother might most want to take a kid-less vacation.
Suniya S. Luthar is Foundation Professor of Psychology at Arizona State University and Professor Emerita at Columbia University's Teachers College. After receiving her Ph.D. from Yale University in 1990, she served on the faculty of the Department of Psychiatry and the Child Study Center at Yale. Between 1997 and 2013, she was at Columbia University's Teachers College, where she also served as Senior Advisor to the Provost (2011-2013).
Dr. Luthar's research involves vulnerability and resilience among various populations including youth in poverty, children in families affected by mental illness, and teens in upper-middle class families (who reflect high rates of symptoms relative to national norms). A mother of two grown children herself, her current scientific focus is on motherhood; studies aim to illuminate what best helps women negotiate the challenges of this life-transforming role, and to apply these insights in interventions toward fostering their resilience.
Mothers of Tweens

The joys and challenges of motherhood wax and wane over time, and most people would guess that the most trying time is during children's infancies.  But our new research shows that the most challenging period actually comes during children's middle school years, that is, around the "tween" years.  
In a study of over 2,000 mostly well-educated mothers with children of various ages, we looked at many aspects of mothers' personal well-being and parenting. Our findings consistently showed an inverted V shape in feelings of stress and depression, with mothers of middle schoolers faring the most poorly, and mothers of both infants and adult children doing the best.
It turns out, then, that although infants bring physical exhaustion, mothers experience much psychological gratification in interactions with their little ones.  But as puberty approaches, things become increasingly rocky.  Most strikingly, moms can face drastic changes in the children's personas.  The adoring, happy first grader has morphed into a confusingly, unpredictable teen: affectionate and thoughtful on one day, and implacably closed off on the next.  And of course, this is the age when kids start to experiment with things that inevitably cause worry; they start to experiment with alcohol, drugs, and sex.   
What's a mom to do? Well, first – middle school moms should take heart: it does get easier over time. Middle schoolers become high schoolers, and then adults, and our data clearly show that the happiest, least stressed moms are those whose children have grown into adulthood.   
More important, perhaps, moms must ensure that they are psychologically refueled on an ongoing basis.  Motherhood is very hard work, and receiving reliable, loving support – from partners or from family or friends – is not just important, but is actually essential.  It is essential for our own sanity, and thus, for the well-being of those whom we tend. 
So do remind yourself constantly of this message (seriously, put it on the refrigerator if you must!): Moms are not just caregivers.  We're human beings as well.  As children must be tended, so must we.