The Academic Minute for 2016.4.25-4.29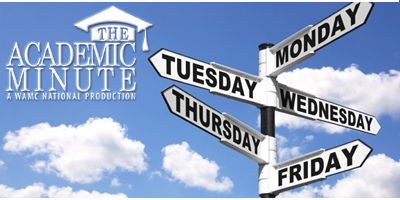 Academic Minute from 4.25 – 4.29
Monday, April 25
Josh Reno – Binghamton University
Landfills
Josh Reno's diverse research interests share a focus on controversial modern technologies designed to solve seemingly intractable problems, from waste and climate change to disability and energy insecurity. His early research focused on a large landfill in the periphery of Detroit, which he observed as both a paid laborer and an associate of local activists, documenting the complicated ways that our collective waste becomes entangled with the fate of particular people and places.
In collaboration with the Waste of the World Project, he has also conducted research and published on the introduction of new technological solutions to the waste crisis and climate change in the United Kingdom. He has new research projects on American warcraft waste and international carbon offsets in preparation. He is interested not only in environmental controversies, but in how technological innovations complicate what it means to be human.
Tuesday, April 26
Matthew Carrigan – Santa Fe College
Human Ethanol Consumption
Matthew Carrigan is an Assistant Professor of Biology.  He began his PhD in neuroscience at University of Florida's College of Medicine studying the evolution of neuropeptides, and ended by investigating the origins and early evolution of life.  His recent research explores molecular adaptations in primates, with an emphasis on medically relevant evolutionary changes in the lineage leading to modern humans.  He began teaching at Santa Fe College in 2013, and received the James Gregg teaching award in 2014.  He enjoys teaching science majors and non-majors to appreciate the beauty and complexity of living systems in their midst.  He is particularly interested in providing students an opportunity to learn how to "think like a scientist" outside the classroom by participating in research that combines data collection in the field with modern molecular laboratory techniques.
Wednesday, April 27
Andrew Ellington –  University of Texas at Austin
Fighting Cancer with Nanomachines
Andy Ellington uses evolutionary techniques — in particular, a method known as "directed evolution" — to engineer biopolymers, cells, and even entire organisms that can help solve real-world problems, including diagnosing and monitoring disease, creating new biosynthetic pathways for drugs, and even making novel 'matter computers' that may herald a revolution in 'smart objects.' He also leads a project called DIY Diagnostics, which marshals a team of undergraduate researchers to develop fast, inexpensive environmental sensors for mosquito-borne viruses such as malaria and Zika.
Thursday, April 28
Steven Whiting – University of Central Florida
Teamwork
Steven Whiting is an Assistant Professor of Management in the College of Business Administration at the University of Central Florida in Orlando. He earned his Ph.D. in Organizational Behavior and Human Resource Management from Indiana University. His work has appeared in peer-reviewed journals such as the Journal of Applied Psychologyand International Public Management Journal. Dr. Whiting is particularly interested in understanding the psychology of helping in the workplace, as well as other voluntary, pro-social, or citizenship-like behaviors at work. His research has primarily addressed the outcomes of these behaviors, how co-workers view them, and various performance-related impacts of them for individuals, teams and organizations.
Dr. Whiting co-authored this study of player success in the NFL Draft with Dr. Timothy Maynes of the University of Buffalo.
Friday, April 29
Lori Martin – Louisiana State University
Greatest of All-Time
Lori Latrice Martin conducts research on race and ethnicity, racial wealth inequality, black asset poverty and the sociology of sports. She is originally from Nyack, New York. She received her doctorate from the University of Albany, State University of New York. She is an associate professor in the department of sociology and the African and African American Studies program. She has authored and edited more than 10 books including White Sports / Black Sports: Racial Disparities in Athletic Programs.