The Academic Minute for 2016.4.18-4.22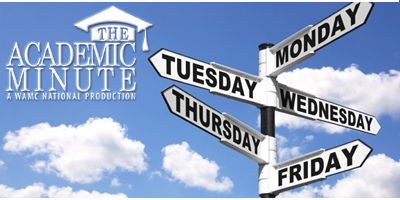 Academic Minute from 4.18 – 4.22
Monday, April 18
Krista Jenkins – Farileigh Dickinson University
Political Differences Between Mothers and Daughters
Krista Jenkins (PhD, Rutgers University) is Director of PublicMind and associate professor of political science. She specializes in youth politics and the politics of gender and is the co-author of several books, includingA New Engagement? Political Participation, Civic Life, and the Changing American Citizen, Oxford University Press 2006
Tuesday, April 19
Jon Hawkings – University of Bristol
Greenland's Ice Sheet
Jon Hawkings is a research associate in the School of Geographical Sciences at the University of Bristol in the UK. His research focuses on biogeochemical cycles in some of the coldest regions of our planet. Specifically he looks at the influence of ice sheets and glaciers on downstream elemental cycles. This includes the potential of glacial meltwater and the fine ground sediments carried by it to naturally "fertilize" marine ecosystems. In a broader context, his research interests span low temperature chemical weathering processes, global nutrient cycles (with a particular interest in the iron biogeochemical cycle), microbiology in cold environments and global environmental change with respect to cryospheric response (the frozen regions of our planet). He enjoys working in inhospitable and challenging environments – much of his data stems from samples collected in the field.
Wednesday, April 20
Lu Zheng –  University of Florida
Narrative Advertising
Dr. Lu Zheng is an Assistant Professor of Advertising at the University of Florida in Gainesville, FL. Dr. Zheng teaches both undergraduate and graduate-level courses on Media Planning, Media Math and Research, Advertising Research, Advanced Media Planning, and Advertising Theory. Dr. Zheng has won two national awards for her research on narrative persuasion, including the 2010 Doctoral Research Grant Competitions from the American Academy of Advertising and the 2011 Best Conference Paper Award from the American Academy of Advertising's Annual Conference. Dr. Zheng's research interests include construction of persuasion model, persuasion via narrative advertising, advergaming, media psychology, OTC advertising, entertainment studies and cross-cultural studies. Her work has been published in Advertising Theory, Advances in International Marketing, International Journal of Advertising, Asian Journal of Communication, Journal of Radio and Audio Media, among others. Dr. Zheng earned her Ph.D. in Mass Communication with a cognate in Statistics from the University of Alabama. Before enrolling in graduate school, Dr. Zheng was a news reporter with Xinhua News Agency in Beijing, China. During the 2008 Beijing Olympic Games, Dr. Zheng worked as a trilingual (English, French, and Chinese) news reporter and photographer for Village Life, the official daily publication circulated inside the Olympic Village. She was also a reporter and photographer for China Daily, Chinadaily.com.cn, and a columnist for 21st Century during the 2008 Olympics. She was awarded a Certificate of Appreciation by the U.S. Olympic Committee for her journalistic work. Dr. Zheng was accepted in the Advertising Educational Foundation's (AEF) 2016 Visiting Professor Program (VPP) as one of the 16 nationally selected professors to participate in a two-week fellowship for professors of advertising, marketing, communications and liberal arts.
Thursday, April 21
Amnon Kohen – University of Iowa
Humans versus Pathogens
Prof. Amnon Kohen was born in a kibbutz in northern Israel. He received his B.Sc. degree in Chemistry in 1989 from the Hebrew University in Jerusalem and D.Sc. (Doctor of Science) degree in 1994 from Technion-Israel Institute of Technology. After that he was a postdoctorial scholar with Prof. Judith Klinman at the University of California at Berkeley. In 1999, he moved to the University of Iowa as faculty member. His main interest is bioorganic chemistry and he enjoys studying the mechanisms by which enzymes activate chemical bonds. His research focuses on the relationship between enzyme structure, dynamics, and catalysis. He is also pursuing medical and technological applications of biological catalysts.
Friday, April 22
Thomas Olsen – SUNY New Paltz
Shakespeare and the Art of the Remix
Thomas G. Olsen joined the faculty at SUNY New Paltz in 1997. He teaches undergraduate and graduate courses in Shakespeare and in English literature, especially of the early modern period. He has a particular interest in Shakespeare's adaptations of source stories, as well as in the other side of of that process: the ways that later writers and other artists have adapted and re-worked Shakespeare.