The Academic Minute for 2015.11.23-11.27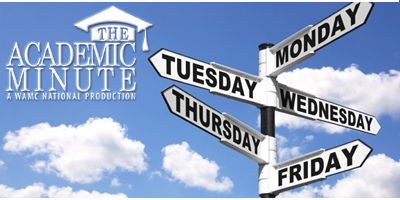 Catch up with The Academic Minute from 11.23 – 11.27
Monday, November 23
Matthew Osborne – University of Toronto
Cell Phone Bill Shock
Matthew Osborne is an Assistant Professor of Marketing in the Department of Management at the University of Toronto Mississauga, with a cross-appointment to the Marketing Area at Rotman. His research interests include the development of modelling techniques to help understand consumer choices and firm behaviour. His research has focused on areas such as consumer choice of wireless carriers, consumer learning about new products, and how firms price in markets where transport costs are important. His research papers have been published in journals such as The American Economic Review, Economics Letters, Quantitative Marketing and Economics, and the RAND Journal of Economics.
Tuesday, November 24
Jonathan Pieslak – City College of New York
Terrorism & Music
Jonathan Pieslak (b. 1974, Wilmington, DE) is an Associate Professor at The City College of New York and Graduate Center, CUNY where he specializes in scholarship on radical/extremist culture and music composition. He published his second book, Radicalism & Music: An Introduction to the Music Cultures of al-Qa'ida, Racist Skinheads, Christian-Affiliated Radicals, and Eco-Animal Right Militancywith Wesleyan University Press in November 2015. His research was supported by a Guggenheim Fellowship in 2011, and he is now working on a team project exploring the mobilizing influence of media in the jihadi-Salafi movement, funded by a Minerva Grant from the Department of Defense.
He is also the author of the 2009 nonfiction, Sound Targets: American Soldiers and Music in the Iraq War, which has been featured in a variety of national and international newspaper, radio, and television media, including: The New Yorker, BBC, NPR, Fox News, Il Manifesto (Italy), Globo (Brasil), Austrian Public Radio, among many others.He has been invited for lectures at Harvard University, Princeton University, Syracuse University, Davidson College, The Norwegian FFI (Ministry of Defense), Canadian Security Intelligence Service, and many others.
As a composer, Jonathan is a fellowship winner from the American Academy of Arts & Letters for music composition, having worked with members of the New York Philharmonic, Orpheus Chamber Orchestra, Kiev Philharmonic, and other prominent ensembles.
Wednesday, November 25
Noelle Eckley Selin – Massachusetts Institute of Technology
Air Pollution & Volkswagen
Noelle Eckley Selin is Esther and Harold E. Edgerton Career Development Associate Professor in the Institute for Data, Systems and Society and the Department of Earth, Atmospheric and Planetary Sciences at the Massachusetts Institute of Technology. Her research uses atmospheric chemistry modeling to inform decision-making on air pollution, climate change and hazardous substances such as mercury and persistent organic pollutants (POPs).
Thursday, November 26
Philip Sponenberg – Virginia-Maryland Regional College of Veterinary Medicine
Geese & Turkeys
Dr. Phillip Sponenberg is a professor of pathology and genetics in the Department of Biomedical Sciences & Pathobiology in the Virginia-Maryland Regional College of Veterinary Medicine at Virginia Tech. Sponenberg received his DVM from Texas A&M University and his Ph.D. in veterinary medicine from Cornell University in 1979. He joined the faculty of the college in 1981. Sponenberg's research interests are genetics of domesticated animals, coat color genetics, conservation of rare breeds of livestock, diagnostic pathology, and reproductive pathology. Sponenberg is a member of the American Veterinary Medical Association and the Virginia Veterinary Medical Association. Sponenberg also serves as the technical programs director of the American Livestock Breeds Conservancy.
Friday, November 27
Gregory Chasson -Towson University
Hoarding

As an Assistant Professor at Towson University and a Maryland licensed psychologist, Dr. Chasson specializes in the nature and treatment of high-functioning autism spectrum disorders (ASDs) and obsessive-compulsive spectrum disorder (OCSDs; e.g., obsessive-compulsive disorder, hoarding disorder). As an early career investigator, he currently spearheads a research lab that focuses on ASDs, OCSDs, and the nature of their overlap. As an undergraduate, Dr. Chasson obtained several years of clinical and research experience at the Koegel Autism Center at the University of California, Santa Barbara, as well as a Direct Care Staff for adolescents with severe autism spectrum disorders at the Devereux Foundation. While receiving his Ph.D. in clinical psychology (with an emphasis in Child/Family and minor in Data Analysis) from the University of Houston (UH), he served as the Research Coordinator for the Texas Young Autism Project and provided discrete trial training to toddlers with ASD. During his training, he received clinical and research experience in several settings, including the Menninger Clinic/Baylor College of Medicine, as well as Department of Psychiatry at McLean Hospital and Massachusetts General Hospital (MGH), both of which are training institutions of Harvard Medical School. At the UH Victims' Resource Institute, Texas Young Autism Project, Menninger Clinic's OCD Treatment Program, and OCD Institute at McLean Hospital, he was intimately involved in treatment outcome research. At MGH, he directed a multimillion-dollar prospective, longitudinal study of children with obsessive-compulsive spectrum conditions (including ASD traits), a study that required coordinating dozens of staff.
Dr. Chasson has extensive training in and experience with data analyses. He is the regular instructor for a two-course sequence of graduate level data analysis and research design. Dr. Chasson provides statistics consultation to colleagues in and outside of the university and has served as principal data analyst on a variety of published peer-reviewed papers (e.g., Chasson, Vincent, & Harris, 2008). He received a graduate school minor in Psychological Statistics and Data Analysis and has published peer-reviewed papers on quantitative topics (e.g., Chasson & Garnaat, 2010). Dr. Chasson will be serving as a methodologist and statistician on the current project.