Phillip Sponenberg, VaTech – Geese & Turkeys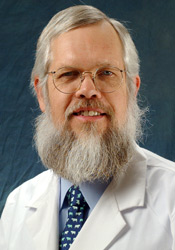 Dr. Phillip Sponenberg has become our resident zoology expert contributing previous pieces on domestic extinction, Choctaw hogs, and even adorable fainting goats.
Today, this Virginia-Maryland Regional College of Veterinary Medicine professor of pathology will tell us all about geese and turkeys.  Happy Thanksgiving!
Dr. Phillip Sponenberg is a professor of pathology and genetics in the Department of Biomedical Sciences & Pathobiology in the Virginia-Maryland Regional College of Veterinary Medicine at Virginia Tech. Sponenberg received his DVM from Texas A&M University and his Ph.D. in veterinary medicine from Cornell University in 1979. He joined the faculty of the college in 1981. Sponenberg's research interests are genetics of domesticated animals, coat color genetics, conservation of rare breeds of livestock, diagnostic pathology, and reproductive pathology. Sponenberg is a member of the American Veterinary Medical Association and the Virginia Veterinary Medical Association. Sponenberg also serves as the technical programs director of the American Livestock Breeds Conservancy.
Geese & Turkeys

A few important roles of animals have long been forgotten. We usually think of eating them, riding them, or keeping them around as pets, but in past eras several breeds provided services that helped keep human life intact.
Cotton farmers in the south depended on two kinds of poultry to keep their valuable crop intact. One of these was the Cotton Patch Goose. These are small geese that are athletic, active, and voracious consumers of grass. Geese leave everything else alone in their search for blades of grass, making them ideal as weeders for the broad-leafed cotton plant that they shun in favor of weedy grass.
The second esssential component was turkeys. Turkeys, in contrast to geese, prefer insects to plants. Turkeys would work a cotton field, avidly searching out and consuming insect pests that could harm the growing cotton plants. Neighbors would each keep different colors of turkeys so the ownership could be sorted out in time for Thanksgiving.
These birds were so essential that bankers would only lend money to a cotton farmer if the farm also had geese and turkeys. The birds were assurance that the cotton crop would succeed.
The traditional roles for these poultry faded with the arrival of chemically-based controls for weeds and insects. Declining demand decreased numbers of birds, and they nearly became extinct. Not even the secondary use of geese as alert guards for moonshine stills could reverse the trend.
Fortunately the Livestock Conservancy has found a few stubborn souls that kept the Cotton Patch geese around, and these are now making a comeback on southern homesteads. Traditional turkeys have also reversed their slide to extinction. This reversal holds true even though few farmers use these birds in their traditional role as partners in cotton production.