Thomas Paradis, Butler University – Local-Global Tension and the Palio of Siena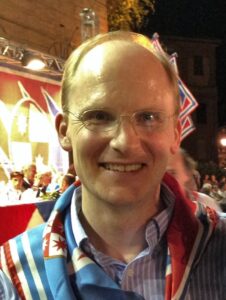 Tourism can change an event that used to be just for one culture.
Thomas Paradis, professor of geography and urban planning at Butler University, determines how to mix both worlds.
Tom is Professor of Geography and Urban Planning at Butler University in Indianapolis, IN. He has taught study-abroad programs and conducted research in Siena, Italy since 2013. His recent books include LIVING THE PALIO: A STORY OF COMMUNITY AND PUBLIC LIFE IN SIENA, ITALY. His second, follow-up book about Siena was recently released, UNBRIDLED SPIRIT: THE UNTOLD STORY OF THE 2018 EXTRAORDINARY PALIO IN SIENA, ITALY (March 2020). Both books are available through numerous global online retailers. Tom is currently working on a new book that interprets geography and community in the Hunger Games series, which will focus particularly on culture and music in the story's Appalachian setting of District 12.
More information and excerpts from his books about Siena, the Palio, and the Contrade can be found on his educational Siena blog at http://sienavisitor.org.
You can contact Tom Paradis at tparadis@butler.edu.
Local-Global Tension and the Palio of Siena

The impacts of globalization on centuries-old traditions can be challenging as well as eye-opening. Take for instance the Palio horse race in Siena, Italy, held twice each summer in honor of the Virgin Mary. Ten of the city's seventeen medieval-era neighborhoods, or contradas, enter a horse and jockey in one of the most ferocious races on earth. With its picturesque city square converted into an amphitheater, the Palio and its four days of local rituals represent the last surviving medieval games once common throughout Tuscany. The Palio is therefore an authentic event, a marker of local identity not at all designed for the tourist gaze.
Now in the age of social media and overtourism, visitors share heart-stopping images of horses careening around the city square, and jockeys being thrown to the ground. After centuries of enjoying relative isolation, the Sienese find themselves defending their practices to a rather skeptical world. A former mayor voiced recent concern, suggesting the Palio was in danger of becoming less meaningful. He states, "The Palio is reduced to simple goods to consume, provided as a meal not only to tourists but also to the Sienese". So the challenge posed is to balance the misinformation of outside observers with the fresh ideas they can bring.
For its part, Siena has attempted just that, with enhanced safety and vetting protocols for the horses, and more intentional security and local guidance for some 30,000 spectators. The reality is that local places like Siena can change with the times while also maintaining a core of traditions and values that will assure the event's success well into the future.