Traver Wright, Texas A&M University – Traumatic Brain Injuries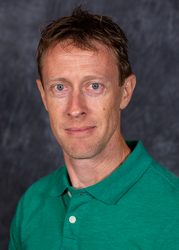 On Texas A&M Center for Sports Management Research & Education Week: We are still learning a lot about traumatic brain injuries.
Traver Wright, research assistant professor in the department of health & kinesiology, discusses a treatment option that is showing results for some.
Dr. Traver Wright is a Research Assistant Professor at Texas A&M University in the department of Health and Kinesiology. He received his bachelor's degree in Marine Biology from Texas A&M University at Galveston and his PhD in Wildlife and Fisheries Sciences at Texas A&M University. During his postdoctoral fellowship at the University of Texas Medical Branch in Galveston, his research expanded to include human translational research examining fatigue, metabolism, and loss of muscle mass in patients suffering from inflammatory disease states including cancer and traumatic brain injury. Dr. Wright's research includes studying the metabolic effects of health and disease in humans as well as studying non-human animal adaptations to extreme environments as physiological models.
This research also includes Dr. Melinda Sheffield-Moore who is also at Texas A&M University in the Department of Health and Kinesiology, and in collaboration with Dr. Randall Urban at University of Texas Medical Branch in Galveston.
Traumatic Brain Injuries

Concussions and other mild traumatic brain injuries are common occurrences that can result from a variety of traumas including car accidents, falls, or sports-related impacts to the head. All too often, individuals downplay mild concussive injuries as fleeting, believing that the more obvious symptoms such as headache, light sensitivity, and memory loss will resolve in a matter of days or weeks. However, even a mild concussion or brain injury can cause individuals to suffer from chronic or recurring symptoms such as profound fatigue and cognitive impairment often described as 'foggy brain'. The severity and duration of chronic post-trauma symptoms can impact school work and job performance, as those suffering symptoms may need to reduce work hours, pause for daily naps, or reduce their overall activities of daily living. In a percentage of cases, the concussive injury may also impair the secretion of growth hormone, a key endocrine hormone which is secreted from the pituitary gland in the brain. Evidence suggests that in those individuals whose injury has left them growth hormone insufficient, replacement with daily growth hormone injections can reduce fatigue and cognition-related symptoms, greatly improving quality of life and allowing patients to return to normal activities. In a recently completed clinical trial, we studied adults with a history of mild traumatic brain injury who also exhibited impaired growth hormone secretion and profound fatigue. In this study, growth hormone replacement was associated with improved sleep, decreased anxiety and depressive symptoms, decreased fatigue, and an altered perception of effort during exercise. These improvements were accompanied by changes in the brain including enlargement in frontal regions and changes in the resting state signaling in key sensory regions. Although we do not yet understand why some brain injuries result in persistent symptoms while others do not, recent research provides clues to potential mechanisms and treatments for symptom relief.