Paul Dosal, University of Southern Florida – The Power of Predictive Analytics on Campus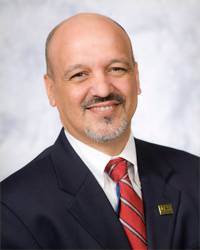 Some students need more support than others to get their education.
Paul Dosal, professor of Latin American history at the University of South Florida, describes how to identity these students early on.
Paul Dosal is the Vice President for Student Success at the University of South Florida. In that position, he is responsible for coordinating the university-wide student success initiative, a strategic campaign to raise retention and graduation rates, boost student satisfaction, minimize financial indebtedness, and prepare all students for success in their careers or graduate and professional schools.
Thanks to a collaborative "movement" involving all colleges and units, the university has made remarkable gains in undergraduate student success, raising the six-year graduation rate from 51% to nearly 70% while also eliminating the achievement gap by race, ethnicity, and socio-economic status. To advance the university's student success initiative even further, Dosal is forging a new team that touches on all aspects of the student experience, including Enrollment Planning and Management, Undergraduate Studies, Dean of Students, Housing and Residential Education, Health and Wellness, and Career Services.
Dosal is also a Professor of Latin American History at the University of South Florida, specializing in the modern history of Cuba and the Caribbean region. He is the author of four books, including Comandante Che, a study of the military career of the legendary Latin American revolutionary Ernesto Che Guevara, and Doing Business with the Dictators, a history of the infamous United Fruit Company in Guatemala in the early 20th century.
Born and raised in Tampa, Dosal is a fourth-generation descendant of Cuban immigrants who settled in Ybor City in 1889. He earned his B.A. in International Politics at St. Andrews College in Laurinburg, North Carolina. He received his M.A. in Latin American Studies and Ph.D. in History at Tulane University in New Orleans. Prior to joining the faculty at the University of South Florida, he taught for nine years at the University of Massachusetts at Amherst.
The Power of Predictive Analytics on Campus

For campuses with tens of thousands of undergraduates, identifying individual students who need support is difficult and it rarely happens before a semester is too far along to be salvaged.
The key is early intervention. We started utilizing a predictive analytics platform a few years ago to identify students at risk of not meeting their graduation goals. The analytics worked perfectly, pulling in student data from our systems and producing lists of individuals who were most likely facing challenges. But this information by itself didn't solve anything; it just pointed us in the direction of issues that needed to be uncovered and fixed.
At first, we weren't set up to act on the data until we formed a cross-functional Persistence Committee to oversee the initiative.  We then implemented a healthcare-like case management model where the office of Academic Advocacy, triaged each identified student to learn their challenges and then coordinated with 200 cross-functional faculty and staff to provide support services.
One example, we had a high-achieving freshman whose grades started slipping and exhibited a waning class participation. A timely email and meeting with an academic advocate uncovered that the undeclared, out-of-state student was homesick, had broken up with his girlfriend and was feeling lost on our large campus. With help, this student was connected to student organizations on campus, did some career exploration, declared his major and was soon back on a successful path.
Predictive analytics has earned its place on our campus as a powerful tool in our comprehensive student success movement. However, without an institutional culture that places students at the center of our work and believes in them, no digital transformation effort will contribute much to student success.