The Academic Minute for 2017.8.21-8.25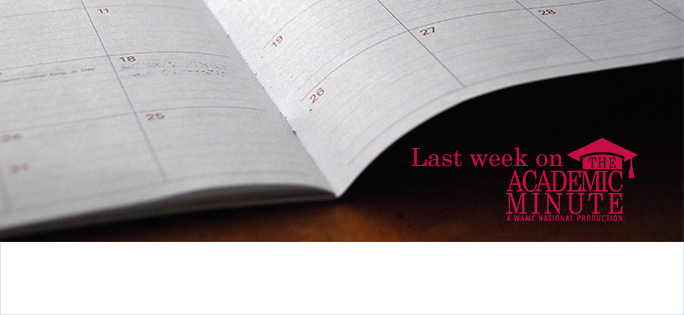 Academic Minute from 8.21- 8.25
Monday, August 21st
Jay Pasachoff – Williams College
Total Solar Eclipse
Jay Pasachoff is Field Memorial Professor of Astronomy at Williams College, Williamstown, Massachusetts, and Chair of the International Astronomical Union Working Group on Solar Eclipses.
Tuesday, August 22nd
Jessica Fish – University of Texas at Austin
Mischievous Teens
Jessica Fish is a human development and family sciences scholar with interests in LGBTQ health and well-being.  She joined the Population Research Center and the Department of Human Development and Family Sciences at the University of Texas at Austin as a postdoctoral research fellow in Fall 2015.
Jessica's research focuses on LGBTQ mental health and alcohol use and how between- and within-group differences identify risk for this population. Her overall research goals are to explore mechanisms that contribute to LGBTQ health disparities and to disseminate this understanding in ways that inform programming and policy aimed at promoting the positive development, health, and well-being of LGBTQ youth and adults.
Wednesday, August 23rd
Susan Fraiman – University of Virginia
How the Homeless Create Homes
As a feminist theorist, my primary interest is in issues of gender and sexuality, whether in "Pride and Prejudice," "Pulp Fiction,"or accounts of homelessness. I write frequently about Jane Austen and edited the Norton Critical edition of "Northanger Abbey." My study of narratives of female development ("Unbecoming Women") features chapters on Frances Burney, Charlotte Bronte, and George Eliot as well as Austen.
My newest book, "Extreme Domesticity: A View from the Margins" (Columbia University Press, 2017), considers eccentric and precarious homemakers (queer, working-class, immigrant, homeless) as the basis for a new theory of domesticity. The book has several aims: to value the labor and know-how needed to produce the space we call "home"; to stress the heterogeneity of households; and to free domesticity from its usual tie to stasis, conformity, and sentimentality. Figures treated in this transperiod study include Elizabeth Gaskell, Edith Wharton, Sandra Cisneros, Jamaica Kincaid, Leslie Feinberg, and Lois-Ann Yamanaka. Genres range from novels and decorating guides to women's magazines and studies of homeless subcultures.
An earlier book, "Cool Men and the Second Sex," analyzes the gender politics of scholarship by Edward Said, Lee Edelman, and others. My work has appeared in a variety of journals, including "Critical Inquiry," "PMLA," "New Literary History," "American Literature" and "Feminist Studies." The article "Pussy Panic versus Liking Animals: Tracking Gender in Animal Studies" reflects my growing interest in Animal Studies.
Thursday, August 24th
Steven Pressman – Colorado State University
Struggling U.S. Middle Class
Steven Pressman is Professor of Economics at Colorado State University, in Fort Collins, Colorado and Emeritus Professor of Economics and Finance at Monmouth University in West Long Branch, New Jersey. In addition, he serves as North American Editor of the Review of Political Economy, and as Associate Editor of the Eastern Economic Journal. His main research areas are poverty and income distribution, post-Keynesian macroeconomics, and the history of economic thought. Over the past three decades, Pressman has published more than 150 articles in refereed journals and as book chapters, and has authored or edited 17 books, including Understanding Piketty's Capital in the 21st Century (Routledge, 2015). A New Guide to Post Keynesian Economics (Routledge, 2001), Alternative Theories of the State (Palgrave Macmillan, 2006), and 50 Major Economists (Routledge, 2013), which has reached its third edition and has been translated into five different languages.He is a frequent contributor to newspapers and regularly appears on TV to discuss economic issues.
Friday, August 25th
Stefan Al – University of Pennslyvania
The Future of the Mall
Stefan Al is an architect, urban designer, scholar, educator, and author, currently serving as Associate Professor of Urban Design at the University of Pennsylvania. He is a leading expert on urbanization in developing countries, high-density cities, and cities of spectacle and entertainment.
In his research, Professor Al aims to understand today's new key urban forms, how they came to be, the ways in which they shape lives and affect resources, and implications for policy and design. He is acclaimed for his work on Asian urbanism with published books investigating China's unique informal settlements and Hong Kong's compact urban form, including Factory Towns of South China, Villages in the City, Mall City, and Macau and the Casino Complex. He has made significant contributions to understanding the role of branding in cities, highlighted in his most recent sole-authored book on Las Vegas, The Strip. His latest research is focused on adapting cities to climate change and connecting people with places through transit-oriented development.
Al's career as a practicing architect includes work on renowned projects such as the 2,000-feet high Canton Tower in Guangzhou, the preservation of world heritage in Latin America at the World Heritage Center of UNESCO, and an 11,000-acre new eco-friendly city in India. He has also served as an advisor to the Hong Kong government, consulting on the development of the city's harbor and external lighting guidelines, the Chinese government, advising on new urban design guidelines, and the United Nations High-Level Political Forum on Sustainable Development.
At the University of Pennsylvania, Professor Al teaches Fundamentals of Urban Design, Site Planning, and various Urban Design Studios dealing with urban design and sustainability challenges.  He also co-teaches an online Coursera class, Designing Cities, with more than 65,000 students.
Al holds a doctorate in City and Regional Planning from UC Berkeley, an M.Arch. from The Bartlett, and an M.Sc. in Architecture with distinction from Delft University of Technology. He is an EU-licensed architect and a LEED Accredited Professional.  He is a native of the Netherlands.