Stefan Al, University of Pennsylvania – The Future of the Mall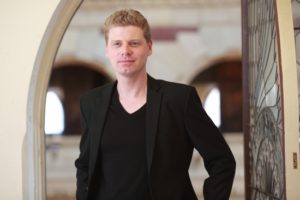 Is the era of the shopping mall comes to a close?
Stefan Al, associate professor of city and regional planning at the University of Pennsylvania, determines whether the mall is really dying, or just needs a shake-up.
Stefan Al is an architect, urban designer, scholar, educator, and author, currently serving as Associate Professor of Urban Design at the University of Pennsylvania. He is a leading expert on urbanization in developing countries, high-density cities, and cities of spectacle and entertainment.
In his research, Professor Al aims to understand today's new key urban forms, how they came to be, the ways in which they shape lives and affect resources, and implications for policy and design. He is acclaimed for his work on Asian urbanism with published books investigating China's unique informal settlements and Hong Kong's compact urban form, including Factory Towns of South China, Villages in the City, Mall City, and Macau and the Casino Complex. He has made significant contributions to understanding the role of branding in cities, highlighted in his most recent sole-authored book on Las Vegas, The Strip. His latest research is focused on adapting cities to climate change and connecting people with places through transit-oriented development.
Al's career as a practicing architect includes work on renowned projects such as the 2,000-feet high Canton Tower in Guangzhou, the preservation of world heritage in Latin America at the World Heritage Center of UNESCO, and an 11,000-acre new eco-friendly city in India. He has also served as an advisor to the Hong Kong government, consulting on the development of the city's harbor and external lighting guidelines, the Chinese government, advising on new urban design guidelines, and the United Nations High-Level Political Forum on Sustainable Development.
At the University of Pennsylvania, Professor Al teaches Fundamentals of Urban Design, Site Planning, and various Urban Design Studios dealing with urban design and sustainability challenges.  He also co-teaches an online Coursera class, Designing Cities, with more than 65,000 students.
Al holds a doctorate in City and Regional Planning from UC Berkeley, an M.Arch. from The Bartlett, and an M.Sc. in Architecture with distinction from Delft University of Technology. He is an EU-licensed architect and a LEED Accredited Professional.  He is a native of the Netherlands.
For a full list of Professor Al's publications, see http://www.stefanal.com/publications/
The Future of the Mall

Today thousands of empty suburban malls dot the American landscape. Describing decaying buildings and cracked asphalt parking lots, eulogy after eulogy arrives at the same conclusion: The mall is "dead."
But 8,000 miles away, another vision of the mall has taken hold – one that could well spell its future.
Hong Kong has more than 300 shopping centers, but most of the city's malls don't sit on asphalt parking lots; rather, they're above subway stations or underneath skyscrapers. Some are connected to so many towers that they form megastructures – cities in and of themselves that can accommodate tens of thousands of people who live, work and play without ever going outside.
Now developers in mainland China and around the world are beginning to closely copy Hong Kong's projects. But will they improve upon the suburban shopping mall's faults – or simply exacerbate them?
Unlike the sprawling suburban counterparts, the urban malls belong to a high-density, mixed-use community, and they're surrounded by apartments and pedestrians, rather than a sea of asphalt and cars.
As convenient this urban form may be, it does come with strings attached. In the case of many of Hong Kong's developments – the mall is deliberately placed at the intersection of all pedestrian flows, between all entry points into the structure and the residential, office and transit areas.
They're impossible to miss and impossible to avoid.
It normalizes a culture of consumerism: Everyday life is played out on the terrain of the mall, and the private shopping atrium takes on the role of the public square.
The Asian hyper-dense urban mall is also making an appearance in American cities. Miami has Brickel City Center; New York City has the Santiago Calatrava-designed Oculus in the new WTC; and there are more to come.
In short, the mall isn't "dead" – it's just changing.