The Academic Minute for 2017.7.31-8.4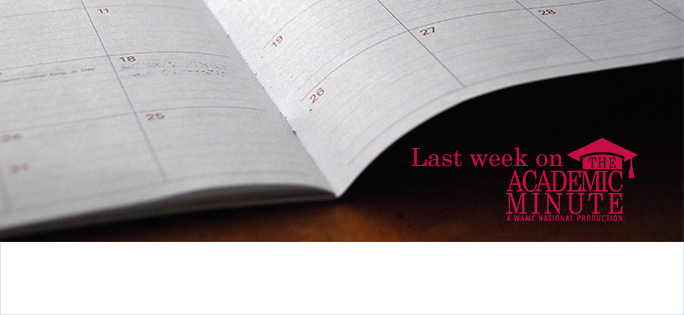 Academic Minute from 7.31 – 8.4
Monday, July 31st
Justin Couchman – Albright College
Uncertainty
Justin Couchman is a cognitive psychologist who researches uncertainty. His work focuses on a mental ability called metacognition, which is often described as "thinking about thinking". This interdisciplinary topic exists at the intersection between psychology, philosophy, economics, morality, and evolution. He specifically explores how monitoring our own thoughts and actions can help us make better decisions, be more self-aware, and avoid falling victim to psychological misconceptions.
Tuesday, August 1st
Ray Raymond – SUNY Ulster
Balanced Internationalism
Dr. Ray Raymond is a former British diplomat who held a Post-Doctoral Fellowship at Yale University in American History. He is Associate Professor of Government and History at SUNY Ulster and also teaches government and politics at the United States Military Academy, West Point. In addition, Dr. Raymond is a regular visiting lecturer at the US Air Force Academy and Fellow of the Pell Center for International Relations and Public Policy. He is currently working on a new biography of John Jay as well as a collective biography of five recipients of West Point's Ninninger Medal, the Academy's equivalent of the Medal of Honor. Dr. Raymond has been honored by Her Majesty Queen Elizabeth II and by the Chief of Staff of the United States Army for his contribution to the development of the academic program at West Point.
Wednesday, August 2nd
Steven Stahler – University of California Berkeley
Our Sun Has A Twin
1992-             Associate Research Astronomer; U. C. Berkeley
1991               Visiting Professor; Osservatorio di Arcetri, Florence
1990-1991     Associate Professor of Physics; MIT
1985-1990     Assistant Professor of Physics; MIT
1982-1985     Astrophysicist; Harvard-Smithsonian Center for Astrophysics
1980-1982     Astrophysicist; Cornell University
Thursday, August 3rd
Megan Dobro – Hampshire College
Bacteria
Megan Dobro, assistant professor of human biology, received her B.S. from Bridgewater State University and her Ph.D. in molecular biology from the California Institute of Technology (Caltech).
Her work has focused on the structural biology of important macromolecular complexes, using techniques such as cell culture, electron microscopy, and 3D modeling. She is especially interested in viruses and bacteria that impact human health. She is the founder of the Youth Empowerment through Safer Sexuality (YESS!) program, co-founder of Hampshire's Collaborative Modeling Center, and is passionate about supporting under-represented students in science.
Friday, August 4th
Lenore Fahrig – Carleton University
Habitat Fragmentation
I am a landscape and conservation ecologist. My students and I study the effects of landscape structure on biodiversity and the abundance, distribution and persistence of wildlife populations. Study species include frogs and toads, turtles, birds, mammals, insects, other arthropods, plants and lichens. Landscape structure includes the amounts of various kinds of land cover in a landscape (e.g., forest, wetland, roads, crop fields), and the spatial arrangement of these cover types.