The Academic Minute for 2017.4.10-4.14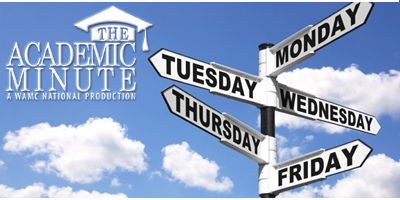 Academic Minute from 4.10 – 4.14
Monday, April 10th
Lisa Wade – Occidental College
Mass Murder as a Form of Protest
Prof. Wade's research, found in highly-regarded academic journals, involves the relationship between social inequality and the body, especially as sexuality becomes a marker of difference and an arena of social control. She has published extensively on U.S. discourse about female genital cutting, has documented the dynamics of hook up culture, and considered the social significance of the body.  Prof. Wade has also written a series of teaching-related essays. You can see her list of selected publications or full curriculum vitae for more.
In addition to research, Prof. Wade enjoys inspiring her students and the public to think sociologically.  She is the founder and editor of the most widely read sociology blog on the web, Sociological Images.The site is designed to encourage all kinds of people to exercise and develop their sociological imagination by presenting brief discussions of compelling and timely imagery that span the breadth of sociological inquiry.  The website receives over 500,000 visits per month and is followed by users on Facebook, Twitter, and Pinterest.
Prof. Wade is also a regular contributor to Ms., Jezebel, and GlobalPolicyTV.  She has been quoted in the New York Times and on CNN and NPR. She has appeared on MTV, been a guest on KPCC, and was featured in the podcast Sounds Familiar. See her full list of media appearances here.
Prof. Wade frequently travels to deliver public lectures. In 2012 she has had the pleasure of giving talks at Yale, Dartmouth, Harvard, Boston University, UCLA, and the University of Massachusetts, Amherst, among others.
Tuesday, April 11th
Jennifer Bevan – Chapman University
Romantic Jealousy in the Digital Age
Dr. Jennifer L. Bevan (B.A., M.A., University of Delaware, Ph.D.; University of Georgia) is a professor in the Department of Communication Studies and the Director of the Health and Strategic Communication M.S. program. Before joining Chapman University in 2007, she served on the faculty at the University of Nevada, Las Vegas and at the University of Southern California. Her research and teaching interests center upon interpersonal and health communication within close relationships. Dr. Bevan's research topics include the negotiation of difficult interactions such as ongoing conflict, jealousy, long-distance caregiving, uncertainty, and topic avoidance, as well as related psychological and physical health correlates of these experiences. She teaches courses in interpersonal communication, health communication theory, nonverbal communication, and conflict.
Dr. Bevan's publications include over 50 peer-reviewed or invited scholarly communication and biomedical articles and book chapters appearing in such journals as Human Communication Research, Communication Research, Communication Monographs, Journal of Health Communication, and Computers in Human Behavior. She was recognized by a November 2009 study in Communication Research Reports as one of the most prolific scholars in the field of communication studies.  She is also a 2014 Valerie Scudder Award winner, which is Chapman University's top faculty "all-around" award for teaching, research, and service.
Her first book, The Communication of Jealousy (2013, published by Peter Lang) was awarded the 2014 Diamond Anniversary Book Award by the National Communication Association (NCA), the 2014 Gerald R. Miller Book Award by the Interpersonal Communication Division of NCA, and the 2013 Outstanding Book Award by NCA's Communication and Social Cognition Division. Her dissertation, "Intrapersonal Consequences of Another's Jealousy Expression: Toward a Reaction Model of Jealousy in Close Relationships" received the 2003 Interpersonal Communication Division Dissertation Award from the International Communication Association. Dr. Bevan has also been awarded numerous top student paper and top four paper awards in health and interpersonal communication at national and regional communication conventions. She currently serves on the editorial boards of Personal Relationships, Journal of Social and Personal Relationships, and Contemporary Argumentation and Debate, and is the Editor of the journal Communication Reports, published by the Western States Communication Association.
Wednesday, April 12th
Ana Ines Ansaldo – University of Montreal
Benefits of Bilingualism
Dr. Ansaldo completed her Ph.D in Biomedical Sciences at the Université de Montréal, and a Post-doctoral training, at McGill University. In 2002, she received the Institute of Aging Special Prize, awarded by the Canadian Institute of Health Research; she also has been honoured with the Premio Venezia, the Prix excellence pour une expérience novatrice en recherche clinique de l'Association des établissements de réadaptation en déficience physique du Québec (AERDPQ). She Heads the Laboratoire de Langage Communication et Vieillissement at the CRIUGM, she is the Director of teaching at the Institut de gériatrie de Montréal, and a professor at the École d'orthophonie et d'audiologie, of the Université de Montréal.
On March 22, 2013, the first Symposium on knowledge transfer took place at CRIUGM. This symposium titled as "Knowledge Transfer: Research Feedback to an Aging Society" was organized by CRIUGM under the responsibility of Dr. Ana Ines Ansaldo, researcher and laboratory director. The aim of this event was to increase the exchange among different parties taking part in sharing knowledge about aging. Invited speakers were from various backgrounds: researchers in gerontology and geriatrics, knowledge transfer from an OBNL, members of the Citizen's Jury, clinicians, experts of communications and media, as well as politicians.
Thursday, April 13th
Jason Boardman – University of Colorado Boulder
Nature or Nurture
Jason Boardman's research focuses on the social determinants of health with an emphasis on the gene-environment interactions related to health behaviors. He teaches undergraduate and graduate-level courses in statistics, social demography, and the sociology of race and ethnicity.
Friday, April 14th
Damayanthie Eluwawalage – Albright College
An Alteration on Fashion History
Damayanthie Eluwawalage serves as assistant professor of fashion design at Albright College. Damayanthie earned her interdisciplinary Ph.D. in design and costume history at Edith Cowan University in Australia. She is a professional historian who specializes in costume history. Her research interests include interdisciplinary design, design theory, aviation, space, social history, aviation and space history, costume history, fashion/aesthetic theory and ergonomics/anthropometrics/human factors in design. Damayanthie has published two books on historical costume: Historical Costume in Fashion Design Perspective and History of Costume: Nineteenth-century Western Australia. She has published numerous journal articles and book chapters, and presents regularly at scholarly conferences throughout the world. Damayanthie has also recently curated an exhibition at the Historical Preservation at the Lorenzo State Historic Site in Cazenovia, New York.