David Caplan, Ohio Wesleyan University – Is Hip-Hop Poetry?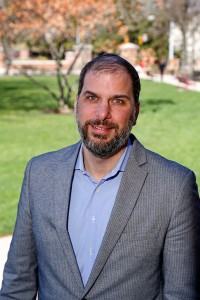 Would Garrison Keillor read hip hop lyrics on The Writer's Almanac?
David Caplan, professor of English at Ohio Wesleyan University, discusses whether hip hop is poetry and whether it should be more broadly recognized for its skill.
David Caplan is the Charles M. Weis Chair in English and the Associate Director of Creative Writing. His scholarly interests include poetics and contemporary poetry. He has published four books: Questions of Possibility: Contemporary Poetry and Poetic Form (Oxford University Press, 2004), Poetic Form: An Introduction (Longman, 2006), In the World He Created According to His Will (poems) (University of Georgia Press/VQR Poetry Series, 2010), and Rhyme's Challenge: Poetry, Hip Hop, and Contemporary Rhyming Culture (Oxford University Press, 2014).
Caplan serves as a contributing editor to the Virginia Quarterly Review and to Pleiades: A Journal of New Writing, and as an affiliated researcher (Chercheur Affilié) at the Centre Interdisciplinaire de Poétique Appliquée. Twice he has been a Fulbright Lecturer in American Literature at the University of Liège. He also was the National Endowment for the Humanities Post-Doctoral Fellow in Poetics at the Bill and Carol Fox Center for Humanistic Inquiry at Emory University. His other honors include the 2012 Emily Clark Balch Prize for Poetry, given to the best poem or group of poems that the Virginia Quarterly Review published during the year, the Welch Award for Scholarly or Artistic Achievement, and an Ohio Arts Council Individual Excellence Award in Criticism.
Presses Universitaires de Liège (Belgium) will publish a French edition of his book, Questions of Possibility, as well as an essay collection titled On Rhyme that he is editing. His other current projects include American Poetry: A Very Short Introduction (under contract to Oxford University Press) and a second poetry collection.
Is Hip-Hop Poetry?

The question is often asked, "Is hip hop poetry?"  Answers generally follow a certain pattern. To call hip hop "poetry" is to praise it, to commend it as insightful or artful. To reject hip hop as poetry is to condemn it as shallow or poorly written. On both sides of the debate, then, "poetry" often acts as an honorific term.
A closer examination of the issue, however, suggests a third possibility, one I explore in my book, Rhyme's Challenge: Hip Hop, Poetry, and Contemporary Rhyming Culture.
Literary history shows that the term "poetry" varies across cultures and time periods. Forms and themes, which certain cultures and periods define as essential, are rare in others. No one definition of "poetry" holds true.
Relatively few contemporary poets use patterned rhyme; almost all view rhyme as optional, if not unappealing. In contrast, very few hip hop artists do not rhyme. Sharpening the contrast, hip hop artists revel in the most audacious rhymes, the cobbling together of diverse material. They favor the particular kinds of rhymes that most contemporary poets specifically avoid.
If the presence of these flamboyant rhymes distinguishes hip hop from contemporary poetry, it also suggests what a consideration of hip hop adds to the study of contemporary poetry. Hip hop's difference clarifies what is missing. Judged according to contemporary practice, hip hop may not be poetry, but that is what makes it such a powerful model. Hip hop inspires attentive listeners to reconsider the pleasures and opportunities rhyme offers and reintroduce them back into our poetry.