Damayanthie Eluwawalage, Albright College – An Alteration on Fashion History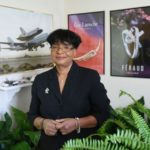 Have we been studying fashion incorrectly?
Damayanthie Eluwawalage, assistant professor of fashion design at Albright College, lays out the reasons to give fashion history an alteration.
Damayanthie Eluwawalage serves as assistant professor of fashion design at Albright College. Damayanthie earned her interdisciplinary Ph.D. in design and costume history at Edith Cowan University in Australia. She is a professional historian who specializes in costume history. Her research interests include interdisciplinary design, design theory, aviation, space, social history, aviation and space history, costume history, fashion/aesthetic theory and ergonomics/anthropometrics/human factors in design. Damayanthie has published two books on historical costume: Historical Costume in Fashion Design Perspective and History of Costume: Nineteenth-century Western Australia. She has published numerous journal articles and book chapters, and presents regularly at scholarly conferences throughout the world. Damayanthie has also recently curated an exhibition at the Historical Preservation at the Lorenzo State Historic Site in Cazenovia, New York.
An Alteration on Fashion History

Fashion, clothing and aesthetics has been studied in depth in many facets, ie, sociologically, economically, psychologically, culturally etc. However, most importantly, theoretical comprehension and application of fashion/clothing theory has only recently acquired significance through scholarly developments as the history of fashion theory and its evolution remains to be written. The understanding of chronological development of the ideas and concepts not only contributes to the understanding of existing fashion/aesthetics related knowledge but also to the comprehension of other humanities disciplines.
The lack of theoretical comprehension in the context of history in fashion and clothing has led some writers to misinterpret the fashion historiography. There are many noted discrepancies, in relation to many present day fashion/clothing/aesthetics writings. For example, failing to acknowledge the uniqueness between the centuries and eras, failing to interpret within the appropriate historical context, (ie, Costumes throughout the ages have symbolically expressed the inner philosophical thoughts, which directed the behavior of a given epoch. Clothes exemplify society and culture of a particular era and environment. The differences between clothing styles and fashions varied throughout pre-1900 centuries, therefore, the differences between clothing/fashion/aesthetics theories also varied and unique to each century) and, therefore, failing to acknowledge the differences between fashion theories between the centuries etc.
The differences between centuries are significantly varied in the context of human deportment, customs, traditions and attitudes. Differences in fashion theories also reflect different eras. For example, nineteenth-century theorists, such as Veblen and Simmel, regarded differentiation and stratification as essential pre-conditions of fashion. Whilst twentieth-century theorist, Herbert Blumer, regards fashion as an expression of collective behaviour, that is, the fashion mechanism appears not in response to a need for class differentiation and class emulation, but in response to a wish to be in fashion.