The Academic Minute for 2016.2.1-2.5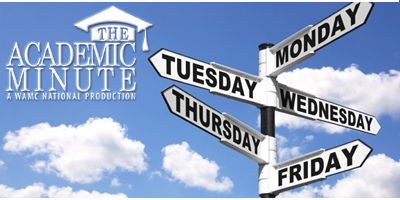 Academic Minute from 2.1 – 2.5
Monday, February 1
Robert Josephs – University of Texas at Austin
Hormones and Unethical Behavior
Robert Josephs is a professor of psychology and the principal investigator in the Clinical Neuroendocrinology Laboratory at The University of Texas at Austin. He has a strong research focus on clinical neuroendocrinology and examines the powerful impacts the endocrine system makes on the rest of the body, particularly the interaction between the stress axis and the reproductive axis.
Josephs' lab borrows techniques from molecular genetics, social-personality psychology and behavioral neuroendocrinology to unveil the underlying, biological causes of behavioral disorders, such as mood and anxiety disorders. His current research investigates how hormone levels—such as cortisol and testosterone—are associated with certain behaviors.
Tuesday, February 2
Joseph Chandler – Birmingham-Southern College
Music and Sleep
I specialize in the behavioral neuroscience of consciousness, including individual differences in sleep and sleep loss, temporal meta-awareness, and social justice.
Wednesday, February 3
Avery August – Cornell University
Antibiotic Resistance and Allergies
Avery August is Professor of Immunology and Chair of the Department of Microbiology & Immunology in the College of Veterinary Medicine at Cornell University. He received a BS in Medical Technology from California State University at Los Angeles, and a PhD in Immunology from Cornell University's Weill Graduate School of Medical Sciences. Following the receipt of his PhD, he moved to the Rockefeller University as a National Science Foundation Minority Post-Doctoral Fellow. After a brief stint in industry at the R.W. Johnson Pharmaceutical Research Institute as a Scientist in Drug Discovery, he moved to The Pennsylvania State University as an Assistant Professor of Immunology where he rose through the ranks to attain tenure, and become Distinguished Professor of Immunology, as well as serving as Director of the Center for Molecular Immunology and Infectious Disease. He currently teaches Immunology, and performs research that is at the intersection of signal transduction and development of disease, with emphasis on animal models of allergy and lung inflammation.
Thursday, February 4
Mads Daugaard –  University of British Columbia
Malaria Vaccine and Cancer
Dr. Mads Daugaard is a molecular biologist specialized in tumour-associated stress signaling pathways and tumour targeting systems. He earned his PhD degree from the Faculty of Health Sciences, University of Copenhagen, for his studies on heat shock proteins in relation to cancer cell survival mechanisms. After getting his PhD, Dr. Daugaard received a junior fellowship award to continue his work at the Danish Cancer Society Research Centre on stress signaling pathways related to DNA damage response mechanisms. In 2010, Dr. Daugaard received a research award from the Danish Cancer Society Scientific Committee to do postdoctoral training in molecular pathology at the BC Cancer Research Centre and the Department of Pathology and Laboratory Medicine, University of British Columbia.
Dr. Daugaard's ongoing research focuses on molecular and biochemical events underlying alternative polyadenylation of mRNAs, chromatin context-dependent DNA repair, and development of resistance to chemotherapy. Another aspect of Dr. Daugaard's research relates to discovery and development of novel tumour targeting systems based on parasite-derived recombinant proteins relevant for therapeutic and diagnostic applications in cancer.
Friday, February 5
Rhondda Thomas – Clemson University
Convict Labor and Clemson
Rhondda Robinson Thomas is an associate professor of English at Clemson University where she teaches early African American Literature and American literature. Dr. Thomas has published Claiming Exodus: A Cultural History of Afro-Atlantic Identity, 1770-1903, co-edited the anthology titled The South Carolina Root of African American Thought, A Reader, and edited the scholarly edition of Jane Edna Hunter's autobiography A Nickel and a Prayer. She has also published several essays in scholarly journals and anthologies. She is currently conducting research for two publications by Cambridge University Press about literature produced by and about writers of African descent in 18th-century America. She was recently awarded a $100,000 grant to research and document the lives of African Americans in early Clemson history. Dr. Thomas serves as co-chair of the Race and the University: A Campus Conversation initiative and began her second year as a faculty-in-residence at Clemson University this fall.