Rhondda Thomas, Clemson University – Convict Labor and Clemson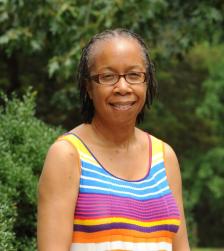 Clemson University was built by those who could never attend the college.
Rhondda Thomas, associate professor of African American Literature at Clemson, sheds light on the slaves who labored to build the institution and why it's necessary to paint the full picture of a school's history.
Rhondda Robinson Thomas is an associate professor of English at Clemson University where she teaches early African American Literature and American literature. Dr. Thomas has published Claiming Exodus: A Cultural History of Afro-Atlantic Identity, 1770-1903, co-edited the anthology titled The South Carolina Root of African American Thought, A Reader, and edited the scholarly edition of Jane Edna Hunter's autobiography A Nickel and a Prayer. She has also published several essays in scholarly journals and anthologies. She is currently conducting research for two publications by Cambridge University Press about literature produced by and about writers of African descent in 18th-century America. She was recently awarded a $100,000 grant to research and document the lives of African Americans in early Clemson history. Dr. Thomas serves as co-chair of the Race and the University: A Campus Conversation initiative and began her second year as a faculty-in-residence at Clemson University this fall.
Convict Labor and Clemson

Wade Foster was 13 when he helped to build a university he could never attend. His children could never attend. His grandchildren could never attend.
Foster was a criminal; a black boy caught stealing six dollars worth of clothes from a white family. Sentenced to six months in prison, South Carolina gave Foster to Clemson University to serve his sentence as convict labor. South Carolina called convict labor "slaves of the state."
From 1899 until 1908, convict labor built Clemson University. Documents found so far list 557 convicts sent to Clemson. All but 29 were African Americans.
Wade Foster was not the youngest convict laborer. Records list a boy of 12 among the prisoners who made bricks for campus buildings; cleared college land, and dug foundations and drainage dikes. 
Convict labor, the stereotype robbed the men and boys of their individuality and their contributions to history.
Who were the convicts? What were their crimes? How long did they serve?
That the work of convicts was valued — though not their lives — helped to answer the questions. My research led me to The South Carolina state archive, which had ledgers and accounts of the convict labor business arrangement.
South Carolina was not the only state to use convicts as laborers, but It was the state that used them more than any other to build universities.
The aim is not to diminish the Clemson's reputation but to enrich it, to give a complete accounting, to use the past to inform the present and future. The goal of this research is to have markers installed, and for campus tours to include the convict labor story.
We cannot change our history, but we can use history to bring about change.