Gayathri Devi, Duke University – Breast Cancer Treatments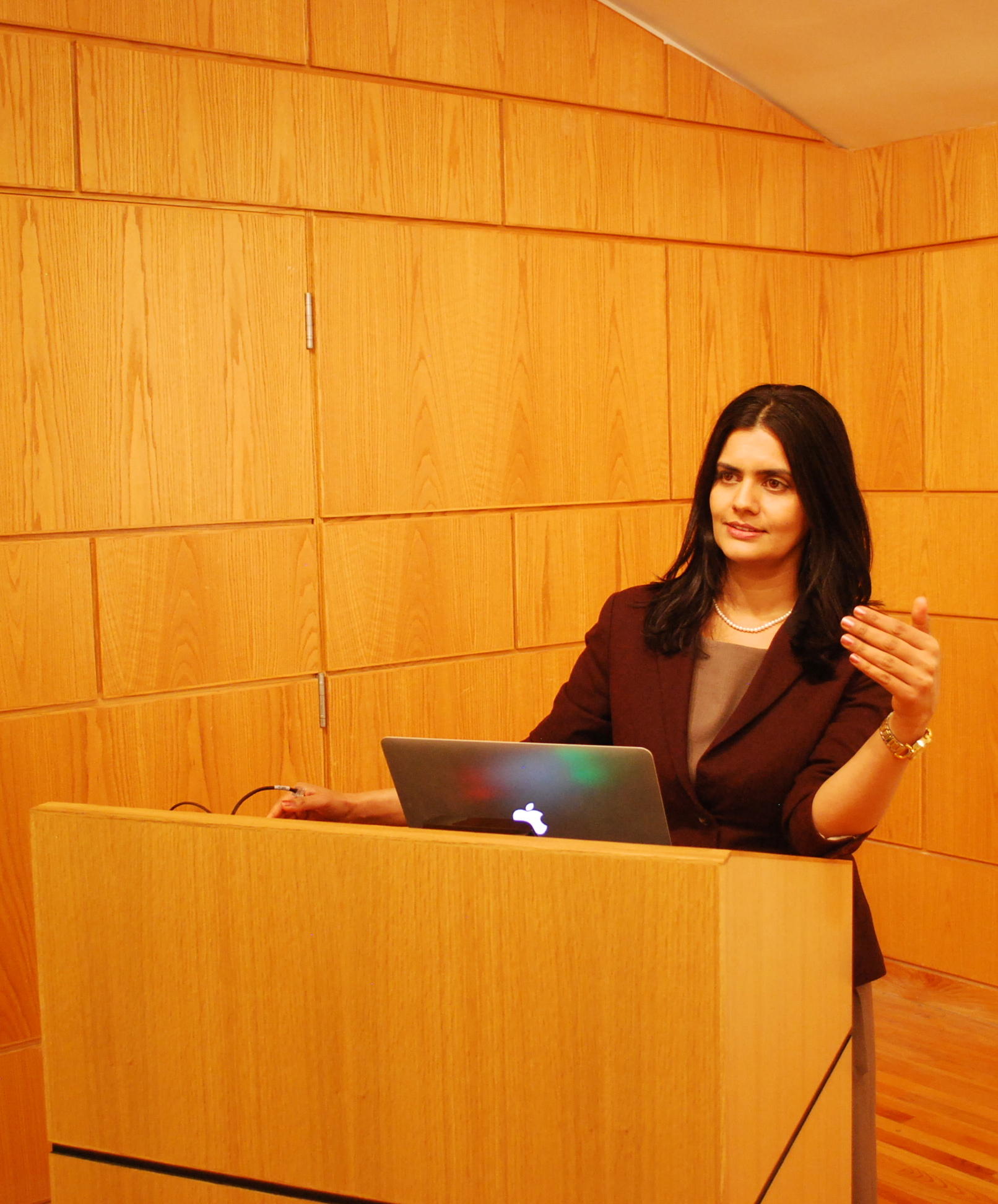 Can medication used to treat alcoholism be repurposed for other medical conditions?
Gayathri Devi, associate professor of pathology and surgery at Duke University, is exploring this possibility.
Gayathri Devi is Associate Professor in the Department of Surgery, Division of Surgical Sciences and in the Department of Pathology at Duke University School of Medicine. She is a member of Women's Cancer Program at Duke Cancer Institute and Adjunct Associate Professor in the Department of Pharmaceutical Sciences at North Carolina Central University, a historically black college, where she is leading Duke-NCCU collaborative initiatives in cancer health disparities and education. Dr. Devi received her undergraduate degree from All India Institute of Medical Sciences, Delhi, in 1991, Masters (Biochemistry) in 1993, and a Ph.D. (1998) in Biochemistry and Molecular Biology from University of Nebraska Medical Center, Omaha.
Her thesis work supported by the Nebraska Research Initiative Biotechnology Fellowship led to the discovery of the insulin-like growth factor (IGF) binding domain on the type 2 IGF receptor. She was then awarded a Department of Defense Postdoctoral Fellowship (1999) at Oregon Health and Sciences University to study growth factors and prostate cancer. Subsequently, she was awarded a Department of Defense New Investigator award and NIH grants for cancer preclinical and clinical studies of a novel class of RNA-based drugs leading to a position of Group Leader (2002) at AVI BioPharma Inc., Oregon. She was recognized with the 2005 Endocrine Society Quest Diagnostic Young Investigator Award and moved to Duke University in 2005. Her laboratory is studying mechanisms of programmed cell death in disease biology and for anti-cancer drug discovery. In particular, she has developed a national and internationally recognized research program and consortium toward understanding a rare, understudied, distinct, and the most aggressive type of breast cancer called inflammatory breast cancer (IBC).
She was awarded the prestigious American Cancer Society Research Scholar grant in 2008 and a recipient of Department of Defense Idea awards in the field of anti-cell death signaling in immunosuppression. She is passionate about undergraduate and graduate education and mentoring and also leads a program called Duke MERITS (Multidisciplinary Education and Research in Translational Sciences).
Breast Cancer Treatments

Inflammatory breast cancer (IBC) is a distinct and most aggressive type of breast cancer.
It is important to note that unlike other breast cancers, there is usually no solid mass or lump that can be felt during a breast exam or spotted on a mammogram. The tumor cells spread and block the lymph vessels in the skin of the breast, causing swelling, often very painful, and a red coloration that looks like an infection or inflammation. This can often lead to misdiagnosis of an infection or mastitis.
Inflammatory breast cancer advances quickly, often being diagnosed at stages III and IV, and having spread to other nearby tissues and lymph nodes. It's a devastating disease, although rare, the global incidence is rising, and worse, this specific cancer is highly resistant to treatment.
One discovery from our recent study analyzing gene expression profiles in patient tumor tissue is that inflammatory breast cancer tumors compared to normal breast and non-IBC tumors are highly redox-adapted, which means they can survive even in the presence of high levels of reactive oxygen species, a mechanism that many common cancer therapies including chemotherapeutics and radiation use to specifically kill the tumor cells.  Unfortunately, this allows the IBC tumor cells to adapt and become rapidly resistant to common treatment strategies. Therefore, identifying new strategies that can suppress this redox adaptation in tumor cells could be highly effective.
Using this idea as a starting point in our drug discovery efforts, we were excited when we made the surprising observation of a new use of an old drug called Disulfiram to kill inflammatory breast cancer tumors. Disulfiram has been in use for over 50 years to support treatment of chronic alcoholism. If someone takes a drink while on the drug, they get many of the unpleasant symptoms like that of a severe "hangover" immediately, so it acts as a deterrent to alcohol consumption.
What we discovered is that Disulfiram forms a complex with copper that allows it to enter tumor cells and act as a redox modulator. That furthers the ability of this complex to selectively target the cancer cells while sparing normal cells and promote tumor-specific kill.
We are indeed hopeful that our findings support further investigation of Disulfram as a potential therapy for inflammatory breast cancer by enhancing chemotherapy, or increasing the success of radiation therapy, and even many targeted drugs for significant improvements in clinical outcome.
Read More: WRAL: Duke study targets rare, inflammatory breast cancer treatment