Jodie Childers, Tulane University – The U.S. and NATO in the Icelandic Literary Imagination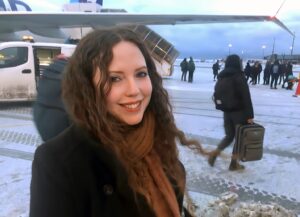 Iceland and NATO have a frosty relationship.
Jodie Childers, visiting assistant professor in the department of English at Tulane University, examines the history.
Jodie Childers is a Visiting Assistant Professor of English at Tulane University. Her research examines twentieth-century transnational Icelandic/American literary and political encounters.  She has published her work in Comparative American Studies, Resources for American Literary Studies, Transatlantica, and The Hopkins Review, among others. In 2018, she received the Leifur Eiríksson Foundation Fellowship to pursue independent research and language study in Reykjavík, Iceland. She holds a Ph.D. in English with a concentration in American studies from the University of Massachusetts Amherst.
The U.S. and NATO in the Icelandic Literary Imagination

In 1948, Halldór Laxness published a provocative novel titled The Atom Station that imagined the prime minister of Iceland ceding to the US government's request to appropriate land for military use. Just one year later, Iceland joined NATO, which spurred historic protests in Reykjavík. During the 1950s, Laxness continued to speak out against the U.S. base at Keflavik. His stance did not go unnoticed by the Americans during the Cold War. When he received the Nobel Prize for Literature in 1955, The Daily News proclaimed Laxness "an enemy of the state." In a Foreign Affairs article published the following year, Ambassador Mary Olmstead branded him "a useful instrument of Soviet penetration." Newly recovered government documents show that the U.S. government monitored the writer during a visit to the country in 1957.
Why was Laxness against Iceland joining NATO? For many Icelandic opponents of NATO, relinquishing control to a rising superpower signified a betrayal of the long struggle for independence from Denmark that began in the 19th century. During World War II, the Allies entered Iceland in 1940. In turn, Iceland leveraged the compromised position of a German-occupied Denmark to take the final step toward severing ties with Denmark. Iceland emerged from the war as a wholly independent nation. For Laxness then, the opposition to NATO was informed by his commitment to national sovereignty and his left-wing political alignment.
Although the anti-NATO movement in Iceland has attenuated over the years, a thread remains in the country, most notably, in current prime minister Katrín Jakobsdóttir who cooperates with NATO while maintaining an ideological opposition. As the North Atlantic Alliance expands through Northern Europe, it is valuable to consider how cultural and political responses to NATO have been shaped by the unique histories of individual nations. In an Icelandic context, literature played an instrumental role in this discourse, reflecting and shaping perceptions of U.S. foreign policy.