Linda Sauer Bredvik, Heidelberg University – Interacting at the Intersection of Life and Religion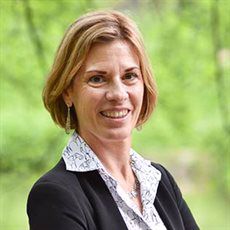 How do we discuss topics such as life and religion?
Linda Sauer Bredvik, lecturer in sociolinguistics at Heidelberg University, determines what to listen for in a discussion to make a better connection.
Linda Sauer Bredvik is a sociolinguist who researches at the intersection of language and interreligious encounters. She is interested in how people talk about what they believe with those who believe differently and has spent over five years observing and recording intercultural, interreligious dialogues. As the pandemic forced these conversations online, she began studying how people's linguistic behaviors changed from in-person dialogues to an online format. Dr. Sauer Bredvik teaches sociolinguistics, empirical approaches to pragmatics and methods of empirical research at the University of Heidelberg, where she earned her PhD. She also has a background in journalism, editing and tourism.
Interacting at the Intersection of Life and Religion

In the midst of both increasing diversity and increasing religious and political polarization, is it possible for people to talk with others who believe differently about what they believe and the ways those religious beliefs and practices shape their everyday lives?
As a sociolinguist, I've been observing and recording intercultural, interreligious encounters for over five years as part of an ongoing research project and have found the answer can be "yes." People who look for points where their stories and lives overlap can use those "sites of mutuality" to then talk about their differing beliefs and worldviews in ways that accept and acknowledge the differences while also seeking to learn from those same differences.
Scholars of interreligious dialogues and encounters point out that, in everyday life, people do not discuss their differing beliefs at an academic or theological level. Rather, they encounter their differences when moms in a playgroup realize their children may not be able to share the same snacks. Or workplace schedules need to be adjusted so that a colleague can attend a religious observance or festival.  These sites of narrative overlap – the playgroup, the workplace – then allow people to open up about their faith practices and worldviews.
In one conversation I observed, for example, a Syrian Muslim woman and an American Jewish woman were talking about music and the musical instruments their children played. This led to each woman singing, in Arabic and Hebrew, portions of their respective liturgies. It is these points, where our religions and worldviews may differ but our lives intersect, that people can interact.