Kathy Feeley, University of Redlands – The Rise of the Hollywood Press Corps and the Making of the Modern American Press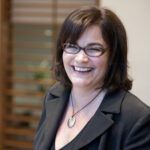 On University of Redlands Week:  Women journalists have faced many questions about their legitimacy.
Today on The Academic Minute: Kathy Feeley, professor of history, describes how one group of women journalists fought through.
Kathy Feeley is Associate Dean, Professor of History, and Director of the Proudian Interdisciplinary Honors Program at the University of Redlands.  She is co-editor of When Private Talk Goes Public: Gossip in American History (2014) and author of Mary Pickford: Hollywood and the New Woman (2016).  She is at work on a book manuscript "The Mightiest Publicity Powers on Earth": The Hollywood Women's Press Club and the Shaping of the Modern Press in Mid-Twentieth-Century America.
The Rise of the Hollywood Press Corps and the Making of the Modern American Press

In this project, I center the Hollywood Women's Press Club (HWPC) to examine the dramatic ascendance, significant impact, and enduring significance of mid-twentieth-century American entertainment journalism from the 1920s to the 1980s.  The Hollywood press corps—as a professional cohort and cultural concept—does not exist in 1920 but emerges as the third largest U.S. press corps by 1950.  The networks, output, and decidedly mixed cultural reception of the white, female journalists and public relations personnel of the Hollywood Women's Press Club shaped critical debates over the meaning of American journalism and issues of work, marriage, children, sexual harassment, and likeability in American women's lives. 
In the 1920s and 1930s, the Hollywood Women's Press Club fought for professional access and legitimacy.  They also hotly debated the place of publicity and promotion in U.S. journalism.  In the 1940s, they innovated influential and controversial awards—known as the Golden and Sour Apple Awards—that shone a spotlight on vexed questions of media access and transparency.  In the 1950s and 1960s, they battled anti-communist repression, embraced the new medium of television and expanded their already synergistic vision of entertainment journalism.  And they continued to challenge gendered and ageist entertainment norms and practices.  In the 1970s, they explicitly embraced feminist activism that splintered the organization. 
And in the 1980s they faced feminist backlash, all while continuing to shape and produce a complex, conflicted national media discourse on American women's private, public, and professional lives.  The story of the Hollywood Women's Press Club across mid-twentieth-century America illustrates significant changes both in the lives of U.S. women and the modern American press.