Aaron Nelson, SUNY New Paltz – Additive Manufacturing and COVID-19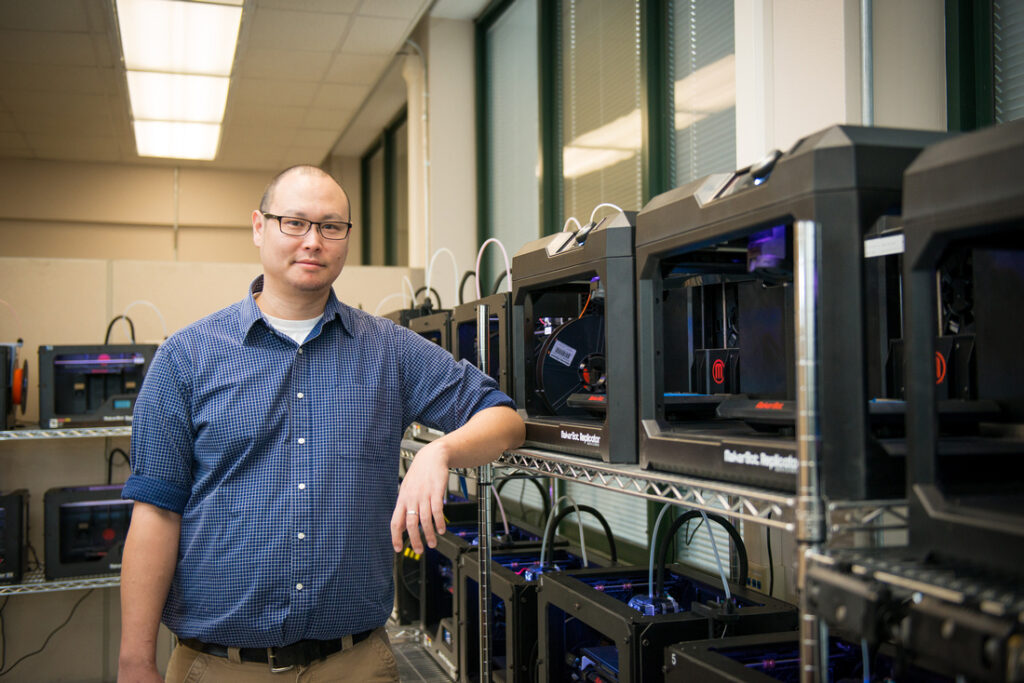 Additive manufacturing can come in handy during a crisis.
Aaron Nelson, assistant professor of art at SUNY New Paltz, details how 3D printing can help quickly during COVID-19.
Aaron Nelson is an Assistant Professor of Digital Design and Fabrication at SUNY New Paltz and works in the Hudson Valley Additive Manufacturing Center (HVAMC). Nelson holds a MFA from University of Massachusetts (Dartmouth) and a BFA from Oklahoma State University. His work focuses in the areas between art, design, computation, CAD, physical computing, and fabrication. His current research focuses on computational design for additive manufacturing applications.
Additive Manufacturing and COVID-19

When the outbreak of COVID-19 hit New York State, personal protective equipment for medical staff and first responders was in short supply. I worked with my colleagues, Dan Freedman and Kat Wilson in the Hudson Valley Additive Manufacturing Center at SUNY New Paltz, to create a simple face shield, which is highly functional and fast to manufacture.  With the 3D printers in our lab, we created 100 copies of the initial design that went directly to workers in the field for feedback and improvement.
When the design was finalized, we collaborated with local manufacturers, IBM and USHECO, to create plastic injection parts to ramp production to speeds beyond what is possible with additive manufacturing, over 30,000 to date.
The ability to make changes to the design on the fly while continuing production is an example of the flexibility and speed in development that additive manufacturing can offer. 
Our rapid response to the COVID 19 outbreak highlights what is possible with a state-of-the-art 3D printing facility directly integrated with design expertise. 
The academic program we have developed, Digital Design and Fabrication, is at the forefront of a new model of design-to-manufacture and works to teach artists, designers and engineers how to employ modern tools and software to both prototype and fabricate, driving the new wave of local design to product using 3D printing. This new model for manufacturing is able to respond very rapidly to changing needs.
This ability to move quickly and decisively is a hallmark for the processes of designing for additive. Additive Manufacturing or 3D printing can increase flexibility, cut development time and costs, eliminate tooling costs and simplify production, giving us the tools to work instinctively and reactively when standard supply chains are disrupted and time is of the essence to deliver equipment and tools to those who need them the most.