Alford Young, Jr., University of Michigan – Isolation Protocols and Low-Income African-American Workers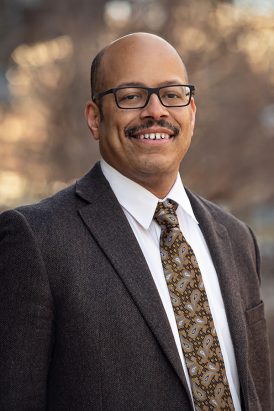 On University of Michigan Week: Isolation protocols during the pandemic can be challenging for low-wage workers in particular.
Alford Young, Jr., professor of sociology, examines the experiences of these workers.
Alford A. Young, Jr. is Arthur F. Thurnau Professor of Sociology, Afroamerican and African Studies, with a courtesy appointment at the Gerald R. Ford School of Public Policy at the University of Michigan. He also serves as faculty director of scholar engagement and leadership at the U-M's National Center for Institutional Diversity and associate director at U-M's Center for Social Solutions.  His primary area of research focuses on low-income African American men, particularly how they construct understandings of various aspects of social reality. Among other work, Dr. Young has published The Minds of Marginalized Black Men: Making Sense of Mobility, Opportunity, and Future Life Chances (Princeton University Press 2004), Are Black Men Doomed? (Polity Press 2018), and From the Edge of the Ghetto: African Americans and the World of Work (Rowman and Littlefield Publishers, 2019). Dr. Young has also researched how African American scholars conceive of the social utility of race-focused scholarship, and how higher education faculty who are committed to advancing diversity, equity, and inclusion take account of their teaching experiences. Finally, Dr. Young coordinates the Scholars Network on Masculinity and the Well-Being of African American Men, an assembly of mid-career scholars in the humanities, social sciences, and professional fields who aspire to influence social policy and broader public understanding of the condition of African American men.
Isolation Protocols and Low-Income African-American Workers

We fail to properly recognize the depth of the struggle for African Americans if we assume that health disparities is all that we have to pay attention to for making sense of why the Covid-19 crisis is so severe for them.  Certain social and cultural dimensions of their everyday life situation heighten their susceptibility.  First, African Americans live in densely populated areas that offer greater challenges for social distancing. They also live in households that are more crowded than the homes occupied by more privileged Americans, and those more crowded homes also often are smaller in size.  The density of the community coupled with the density of the household exacerbates the challenge to African Americans to commit to social distancing and social isolation.
Furthermore, many African Americans, particularly of low income circumstances, do not have the luxury of thinking about staying at home as the best means of surviving the crisis.  They have little to no financial reserve. Therefore, as much as many Americans think that staying home ensures survival, struggling African Americans, if employed, feel that they must go to work in order to survive.  Delivering food and groceries, stocking store shelves, and any other kind of service work that they do, and such work happens to be central to the ability of the more privileged to stay at home and survive, is precisely what African Americans who are in the working poor do to survive.
These considerations do not dismiss that health disparities clearly matter for understanding the status of African Americans in regard to Covid-19.  This is only to say that social and cultural factors matter as well.  Therefore, effective intervention on the behalf of African Americans requires understanding the relevance of these additional conditions and circumstances.