Deborah Archer, New York University – Racial Inequality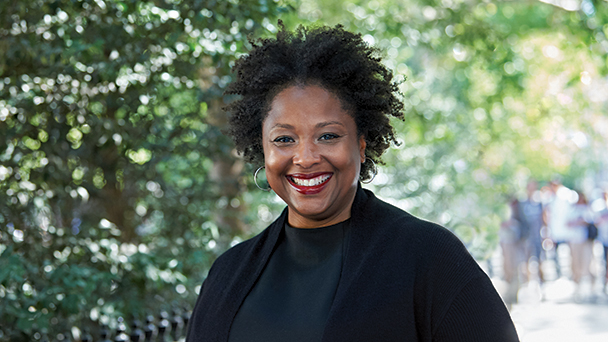 On New York University Week:  Racial discrimination can be hidden in less visible places.
Deborah Archer, associate professor of clinical law, explores this statement.
Deborah N. Archer is an Associate Professor of Clinical Law; Co-Faculty Director of the Center on Race, Inequality, and the Law; and Director of the Civil Rights Clinic at NYU School of Law. She is a nationally recognized expert in civil rights and racial justice, and teaches and writes in the areas of racial justice, civil rights, and clinical pedagogy. In the Civil Rights Clinic, Deborah and her students represent indigent, institutional, and pro bono clients in a range of civil rights matters, including employment discrimination, educational equity, voting rights, and criminal justice reform. Deborah is a graduate of Yale Law School, where she was awarded the Charles G. Albom Prize, and Smith College. She previously worked as an attorney with the American Civil Liberties Union and the NAACP Legal Defense and Educational Fund, Inc., where she litigated in the areas of voting rights, employment discrimination, and school desegregation. She was also a member of the faculty at New York Law School for fifteen years and an associate at the firm Simpson, Thacher & Bartlett. Deborah is currently a member of the Board of Directors and General Counsel to the Board of the American Civil Liberties Union. She is also the chair of the American Association of Law School's Section on Civil Rights and a former chair of the Section on Minority Groups. She previously served on the New York City Civilian Complaint Review Board, the nation's oldest and largest police oversight agency, and the 2018 New York City Charter Revision Commission. Deborah received the Otto L. Walter Distinguished Writing Award and the 2014 Haywood Burns/Shanara Guilbert Award from the Northeast People of Color Legal Scholarship Conference. Deborah was recently recognized by the New York Law Journal as one of New York's Top Women in the Law.
Racial Inequality

When we think of Jim Crow, we usually imagine relics of the past such as police dogs and Whites-only water fountains. Those laws are gone, but many Americans remain committed to racial inequality. In my research, I want to understand the ways that America's history of state-mandated segregation continues to affect our lives. But I also want to show that government-enforced racial discrimination is alive and well in America—albeit in less visible and obvious forms.
Crime free housing ordinances are one example. These laws encourage or require landlords to evict or exclude tenants who have had varying degrees of contact with the criminal legal system. They have the purported goal of stemming crime in rental housing, but the truth is that they are more effective at excluding racial minorities and promoting racial segregation.
While the Fair Housing Act of 1968 prohibits racial discrimination in housing, many in the real estate industry continue to skirt the law. For example, a 2019 investigation revealed that real estate agents in Long Island were steering people of color toward neighborhoods with higher minority populations.
Crime-free housing ordinances act in more subtle ways.
By empowering or requiring landlords to evict or exclude people with criminal legal system contacts, including those who have been arrested without conviction or even those simply suspected of wrongdoing by the police, crime-free housing ordinances effectively merge the racial bias of the criminal legal system with housing policy and blur the line between housing determinations and policing.
This follows the Jim Crow playbook. The myth of Black criminality was used to justify many Jim Crow laws. White people justified the creation of whites-only spaces such as schools, neighborhoods, and parks, by perpetuating narratives of Black criminality. Crime-free ordinances fit squarely into this history.