The Academic Minute for 2019.08.26-08.30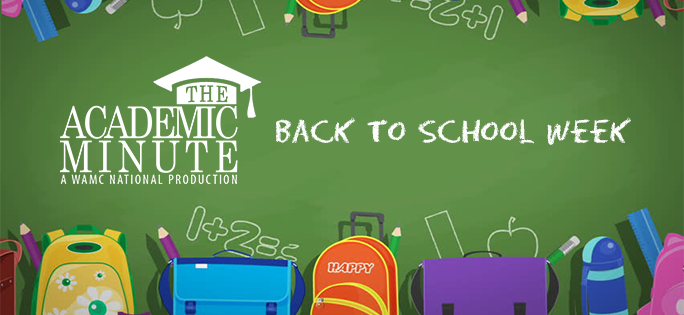 The Academic Minute from 08.26 – 08.30
Monday, August 26th
Jennifer Adams – University of Calgary
Minority Students and Science Achievement
Dr. Jennifer D. Adams was born and raised in Brooklyn, NY.  After college she worked in physical therapy for two years before entering the field of education. Dr. Adams taught high school Biology in the New York City Public Schools and concurrently worked as a field instructor for New York City Outward Bound.  Dr. Adams then moved on to the American Museum of Natural History where she worked as a manager of teacher education.  Dr. Adams completed a MS in nutrition at Brooklyn College, CUNY and an MA in education at New York University followed by a PhD in urban education with a Science, Math and Technology specialization at The Graduate Center, CUNY. Prior to joining the University of Calgary in 2017, Dr. Adams was an associate professor of science education at Brooklyn College, CUNY. Dr. Adams enjoys running and dance.
Tuesday, August 27th
Michelle Hospital – Florida International University
Youth Music Programs and the Five C's
Dr. Michelle Hospital is the Associate Director of Research and Development of FIU's Community-Based Research Institute (CBRI). She also currently serves as a co-leader of South Florida's first Health Disparities Research Center at a Minority Institution (RCMI) from the National Institute on Minority Health and Health Disparities (NIMHD).  She graduated from Florida International University with a doctoral degree in Applied Life-Span Developmental Psychology.  She received an M.S. in Counseling Psychology at FIU and a Bachelor of Business Administration (BBA) from the University of Miami with a concentration in Accounting. She is also a Licensed Mental Health Counselor in the State of Florida (LMHC License # MH 9226).  Dr. Hospital completed her Post-Doctoral training in advanced statistical analyses including Structural Equation Modeling (SEM) and Growth Curve Modeling (GCM) as well as national weighted longitudinal datasets. Dr. Hospital also currently serves as the Chair of the FIU Health Sciences Institutional Review Board (IRB).
Wednesday, August 28th
Katherine Cumings Mansfield – University of North Carolina Greensboro
Improve Schools By Asking Students
A seasoned school teacher and program administrator, Katherine Cumings Mansfield is currently Associate Professor at The University of North Carolina at Greensboro in the Department of Educational Leadership and Cultural Foundations. Mansfield graduated from The University of Texas at Austin with a Ph.D. in Educational Policy and Planning and a doctoral portfolio in Women's and Gender Studies. Mansfield's research is deeply embedded in the historical, political, and sociocultural contexts of education, and draws attention to how social identifies such as gender, race/ethnicity, and class matter when considering educational policy and practice, research approaches, and organizational change. For example, her award-winning study of an all-girls public STEM academy (grades 6-12) revealed the essential roles intergenerational mentoring and critical conversations around race and gender played in the successful schooling of primarily Latina and African American young women from challenging economic circumstances. Perhaps most important, this six-year study illustrated the value of including students' perspectives and leadership in school reform efforts to: 1) more fully understand what students are actually experiencing in school, 2) better conceptualize how we might further improve schools, and 3) further strengthen research designs to be more respectful toward and meaningful for a variety of stakeholders, including students and their families.
Thursday, August 29th
Alexandra Logue – Gradaute Center at the City University of New York
Remedial Math
Dr. Alexandra W. Logue is a Research Professor in CASE (the Center for Advanced Study in Education) of the Graduate Center of The City University of New York (CUNY), with particular responsibility for research and scholarship concerning college student success.
Dr. Logue is an internationally known behavioral scientist. She has published approximately 150 articles, chapters, and books, and has served on the editorial boards of many prestigious journals.  Recently, she and her colleagues published the only randomized controlled trial concerning corequisite math remediation, demonstrating its success.  Her most recent book, Pathways to  Reform:  Credits and Conflict at The City University of New York (Princeton University Press), is a case study regarding the difficulty of making change in higher education.
Friday, August 30th
Allison Buskirk-Cohen – Delaware Valley University
Succeeding In College
Allison Buskirk-Cohen's research focuses on how interpersonal relationships influence general well-being and academic success. She has studied the role of peer relationships and mental health as students transitioned from elementary to middle school. Her recent work has examined factors underlying student success in higher education. She has considered the role of a learner-centered approach in the college classroom, and how professor-student relationships influence student success. Her research demonstrates how powerful the need to connect with others is, particularly within education
She holds a Ph.D. in human development with a specialization in developmental sciences from the University of Maryland. She completed a master's degree in developmental psychology with a concentration in developmental psychopathology from Teachers College, Columbia University. Her bachelor's degree in psychology, with an honors concentration in social psychology, was earned at Pennsylvania State University.