Pradeep Atrey, University at Albany – Battling Fake News on Social Media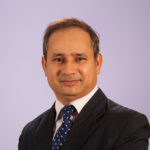 How do we know our news is credible?
Pradeep Atrey, associate professor of computer science at the University at Albany, examines a new way to fight fake news.
Pradeep K. Atrey is an associate professor of computer science at the College of Engineering and Applied Sciences at the University at Albany, SUNY. He is also the director of computer science undergraduate program and the founding co-director of Albany Lab for Privacy and Security (ALPS). His current research interests are in the area of security and privacy with a focus on fake news detection, cyber security and surveillance and users' privacy.
Battling Fake News on Social Media

My research focus is on detecting fake news content on social media platforms, such as Facebook and Twitter. Fake news is a type of social hacking designed to change a reader's point of view, the effect of which may lead them to make misinformed decisions. The goal is to invent novel methods and tools that will automatically detect credibility in news content as well as provide a truthfulness score to its consumers.
To achieve this goal, my colleagues and I at the Albany Lab for Privacy and Security are looking into different aspects of fake news research.
First and foremost, we are looking at how to identify if a given news content is authentic or whether it has been tampered with. Since news content can contain multiple types of media, such as text, images, or video and audio, determining the integrity of each type of media is an integral part of fake news detection. This is crucial given how one type of media can be imbedded into another.
Secondly, we are analyzing the various characteristics of fake news creation and dissemination. For example, it's important to know whether the given fake news was published by mainstream or lesser known outlets, if it's been picked up by multiple outlets and aggregators, was authored by credible sources or unknown entities or was published as an opinion piece or as fact.
Lastly, our aim is to design and develop a multi-modal fusion approach that will combine all of the determinants mentioned in order to compute a credibility score of any given news content. A better understanding of these issues will assist in improving the accuracy of the detection of fake news and misinformation.