Russ Crawford, Ohio Northern University – Female Participation in Football Leagues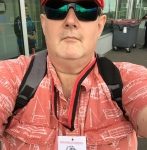 We've always heard that football as a masculine sport.
Russ Crawford, professor of history at Ohio Northern University, says women also play the game and their numbers are increasing.
Professor of History Russ Crawford was born in Ainsworth, Nebraska in 1961. He graduated from Chadron State College with a BA in History in 1985, and again in 1991 with a BS in Social Studies Education. He taught Social Studies in South Dakota for five years, and Spanish in Iowa for three years before returning to the University of Nebraska-Lincoln, where he received his MA in History in 2000, and his Ph.D. in 2005.  After teaching in Lincoln for one year, he began teaching at Ohio Northern University, where he currently teaches. Professor Crawford married Sophie Crawford in 2005, and they currently live in Ada, Ohio.
Crawford has published two books.  His first The Use of Sports to Promote the American Way of Life During the Cold War: Cultural Propaganda, 1946-1963, was based on his dissertation and published The Edwin Mellen Press in 2008.  His most recent book Le Football: The History of American Football in France came out in August of 2016 and was published by the University of Nebraska Press.
Female Participation in Football Leagues

Tackle football is viewed as a male sport, but at a time when male participation rates are down, an increasing number of females are entering the gridiron.
Even after passage of Title IX, girls still often had to battle in the courts before they could take the field.  Adult women cleared a path for greater participation.  In 1965, the Women's Professional Football League gave women a chance to play.  The Toledo Troopers dominated the league through much of its history, winning seven championships between 1971 and 1977.  The league folded in 1979, and nearly twenty years passed before semi pro play resumed.
In 1989, the Minnesota Vixen and the Lake Michigan Minx brought it back by playing a series of barnstorming games.  Today, the two main leagues in the United States are the Women's Football Alliance with sixty five teams, and the Independent Women's Football League with sixteen.  The game is growing for high school girls as well.  Last year, more than 2,000 girls played on mostly-male teams, and there are four all-girls leagues in the U.S. and Canada, including leagues in Manitoba, Utah, Indiana, and New Brunswick.
Internationally, women play American football in more than thirty countries.  The U.S. dominates the game, having won the gold medal at all three International Federation of American Football World Championships. 
Under the leadership of USA Football, efforts are on to address that.  Since 2014 the Women's World Games have brought athletes from around the world (sixteen countries in 2018) to America in order to learn the finer points of the game.
Historically, if anyone has built a program, they have come ready to play.