Kevin LaGrandeur, New York Institute of Technology – A.I. Taking Jobs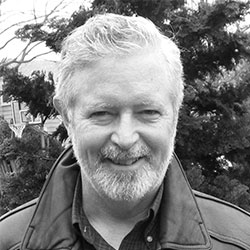 The robots are coming for our jobs.
Kevin LaGrandeur, professor in the department of English at New York Institute of Technology, explains why artificial intelligence is the biggest job killer in our society.
The scholarly work of Kevin LaGrandeur proves that the humanities and sciences have more in common than meets the eye.
His book, Androids and Intelligent Networks in Early Modern Literature and Culture: Artificial Slaves, awarded a 2014 Science Fiction and Technoculture Studies Prize honorable mention, was was the product of interdisciplinary research that also led to a number of articles over the past several years. His latest research on medicine and literature, in collaboration with two physicians, explores an alternate theory of how Shakespeare and some of his fellow playwrights may have died. The project is funded by an Institutional Support for Research and Creativity grant from NYIT. Dean Olsen, D.O., an adjunct professor in the College of Osteopathic Medicine, is one of the consulting doctors.
LaGrandeur started out as a pre-med student but later changed course to earn degrees in English and economics. He then sought a career unencumbered by disciplinary restraints sometimes found in higher education. "For someone like me, who has a strong interest in multiple disciplines, especially sciences, philosophy, and English studies, a university like NYIT is a great fit," he says.
In his class, "Intelligent Technology, Ethics and Literature," LaGrandeur is experimenting with new ways to engage students. They use mobile devices to find and send him links on topics as they're discussed in the classroom, and he posts the most interesting ones on the class syllabus or in a Blackboard discussion area.
His next endeavor is to research the philosophical dimensions of current efforts to build an artificial conscience in robots. He has been appointed Fellow of the Institute for Ethics and Emerging Technologies, an international technology think tank, and is also a member of The Modern Language Association, and the Society for Literature, Science, and the Arts. He served on the executive board of the last organization for two years.
In addition to his book, LaGrandeur is the author of numerous articles and book chapters, as well as conference papers and presentations.
An avid outdoorsman, LaGrandeur enjoys skiing, cycling, hiking, camping, fishing, and birdwatching with his wife. He's a stalwart football and soccer fan who has season tickets for the Green Bay (Wisc.) Packers (though he lives in New York), and traveled to Germany in 2006 to watch the World Cup soccer tournament.
His role models are as disparate as his interests—Albert Einstein; Sir Richard Burton, the 19th-century explorer and writer; and Packers quarterback Bart Starr—and yet they make perfect sense for someone who finds connections in unlikely places.
LaGrandeur says, "The best part of my job is engaging with people and ideas from various disciplines at an intimate, forward-thinking institution."
A.I. Taking Jobs

As Elon Musk recently testified to U.S. governors, automation poses a serious threat to American jobs. In fact, intelligent technology is displacing not only manual labor, but also middle-class jobs and higher level jobs. This displacement includes journalists, technical writers, and accountants, a profession that risks a very significant percent chance of being displaced by intelligent technology in the next ten years.
Contrary to popular belief, the real threat to American jobs isn't flesh-and-blood foreign workers – it's robots. For a large part of America, intelligent technology has produced not only opportunity, but also heartache,. In fact, eighty-eight percent of manufacturing job losses over the past few years are a result of reduced demand for human labor. Machines have been a bigger job-killer to U.S. jobs than both immigrants and outsourcing.
Relieving the effects of technological unemployment will require fundamentally new approaches to economic policy. Potential reforms might include a universal basic income, as Musk has mentioned, or perhaps a shorter workweek and a mechanism for paying individuals when their personal data is used by technology firms to turn a profit.
Musk's appeal to regulate intelligent machines is good in concept, but we need to be judicious about regulation. Because the wrong kind of regulation might place limits on the development of beneficial artificial intelligence, and it also may not deter malicious groups and nations from finding creative ways to thwart the rules.
Judicious regulation could include having scientists and governing bodies develop protocols to build and test artificial intelligence, procedures for fail-safe controls built into artificial intelligence, and methods to examine the reliability of these controls. Most importantly, governments could invest more to research non-military forms of artificial intelligence, so that benevolent innovations in the technology could offset the dangerous ones.