The Academic Minute for 2017.5.8-5.12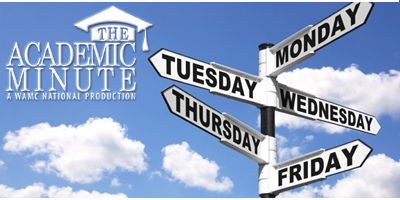 Academic Minute from 5.8 – 5.12
Monday, May 8th
John Rennie Short – University of Maryland Baltimore County
Public Transportation
Professor, author and renowned public speaker, John Rennie Short is an expert on urban issues, environmental concerns, globalization, political geography and the history of cartography. He has studied cities around the world, and lectured around the world to a variety of audiences.
John Rennie Short is Professor of Public Policy at the University of Maryland (UMBC).
Before coming to UMBC in 2002, he was a Professor in the Maxwell School of Citizenship and Public Affairs at Syracuse University. From 1978 to 1990 he was Lecturer in the University to Reading UK. He has held visiting appointments as Senior Research Fellow at the Australian NationalClick for link – John Rennie Short featured in this article University, as the Erasmus Professor at Groningen University and as the Leverhulme Professor at Loughborough University. Among his research fellowships are the Vietor Fellowship at Yale University, the Dibner Fellowship at the Smithsonian, the Kono Fellowship at the Huntington Library and the Andrew Mellon Fellowship at the American Philosophical Library.
He has received research awards from the National Science Foundation, Environmental Protection Agency, National Geographic Society and the Social Science Research Council. Dr. Short's main research interests are in urban issues, environmental concerns and cartographic representation. He is the author of over 30 books, 20 invited chapters to edited books and over 40 papers in such journals as Area, City, Environment and Planning, Geoforum, International Journal of Urban and Regional Research, Journal of American Planning Association and Urban Studies.
Tuesday, May 9th
Deborah Y. Cohn – New York Institute of Technology
Bad Gift Giving
Deborah Y. Cohn's research topics include diffusion of innovation theory, green marketing strategy, consumer perceptions, and consumer gift giving.  Her research employs a variety of qualitative methods, most notably the new method of netnography.  She has published in the Journal of Business Research, International Journal of Business Research, and International Journal of Internet Marketing and Advertising, among others.  In addition, she acts as a reviewer for the prestigious Journal of Business Research.
Cohn is a member of the NYIT Biomedical and Health Sciences Research (BHS) Institutional Review Board (IRB) for the Protection of Human Subjects in Research. In addition, she serves on the Academic Senate and its Curriculum, Educational Technology, and Institutional Development Committees.  Furthermore, she served on the 2030 Steering Committee for the review and updating of NYIT's 2030 Strategic Plan (2015). As director of professional enrichment on NYIT's New York campuses, she provides programming that helps students prepare for their careers.
Wednesday, May 10th
Bruce Peabody – Fairleigh Dickinson University
Heroes
Professor Peabody's research interests include American heroism, constitutional reform, judicial independence, the separation of powers, law and politics, and popular culture. His work has appeared in scholarly journals, law reviews, newspapers (such as the New York Times), and blogs such as Talking Points Memo.
Thursday, May 11th
Terry-Ann Craigie – Connecticut College
Ban the Box
Terry-Ann Craigie's research explores issues in economics of the family, the economics of crime, and labor economics. Although much of her work examines social and economic inequities facing vulnerable populations as a whole, the current focus of her research rests with equity issues facing the U.S. correctional population, the majority of whom are young racial-ethnic minority males.
Her latest project uses quasi-experimental methods to measure the national impact of public sector Ban the Box policies on the public sector employment of convicted individuals and young low-skilled minority males.
She has already published in journals such as Oxford Development Studies, Eastern Economic Journal, The Review of Black Political Economy, The Journal of Ethnicity in Criminal Justice and The Future of Children, as well as books such as Innovations in Child and Family Policy.
Friday, May 12th
Joe Moran – Liverpool John Moores University
Is Technology Making Us Shy?
I am a cultural historian focusing on Britain in the very recent past, with a particular interest in everyday life. Alongside my academic research, I have written regularly for newspapers and magazines such as the Guardian, the Financial Times, the New Statesman, The Times, Times Higher Education, BBC History Magazine, History Today, Literary Review and others. My most recent books are Queuing for Beginners: The Story of Daily Life from Breakfast to Bedtime, a cultural history of daily habits in Britain in the postwar period inspired in part by the Mass Observation surveys of the 1930s and 1940s; On Roads: A Hidden History, a cultural history of the British motorway system; and Armchair Nation: An Intimate History of Britain in Front of the TV. My book Shrinking Violets: A Field Guide to Shyness will be published by Profile Books in September 2016. A revised North American edition will be published by Yale University Press in spring 2017.
I am interested in supervising PhDs in the following areas in particular: postwar and contemporary British cultural history; histories and theories of everyday life; creative nonfiction writing.