Chris Austin, Louisiana State University – DNA from Museum Specimens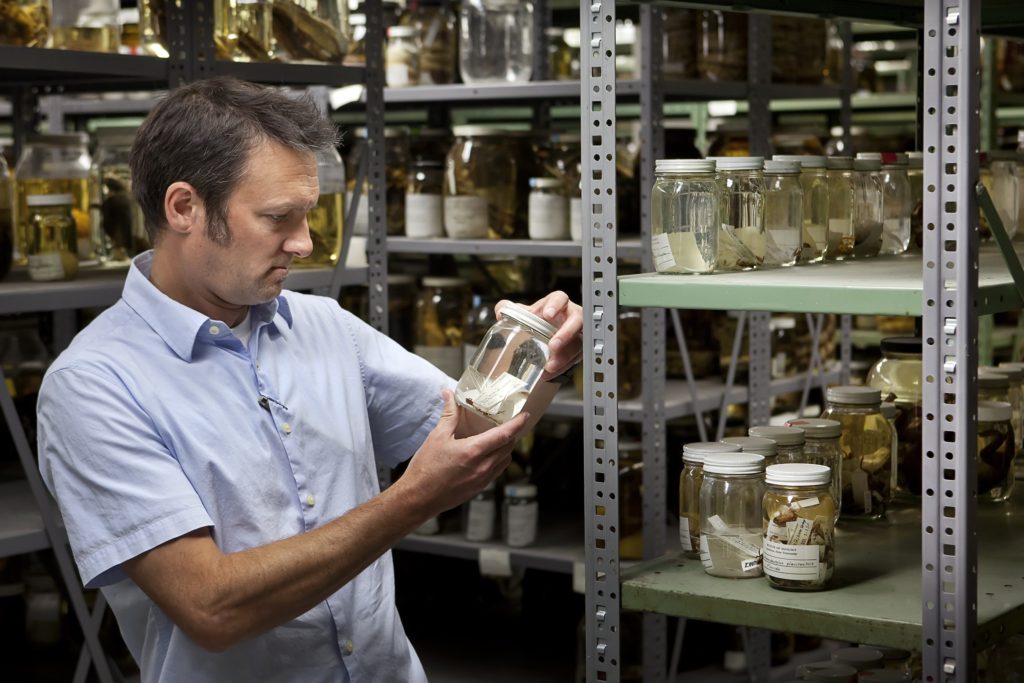 Can you extract DNA from museum specimens?
Christopher Austin,associate professor in the Department of Biological Sciences and head curator of amphibians and reptiles in Museum of Natural Science at Louisiana State University, explores a new way to gather information on the past.
I completed my undergraduate degree at the University of California at Davis and my PhD at the University of Texas at Austin. As I graduate student I developed a deep interest in the herpetofauna and biogeography of Australasia. I spent two years in Australia as a National Science Foundation Postdoctoral Fellow at the South Australian Museum in Adelaide and a Myer Postdoctoral Fellow at the Australian Museum in Sydney. I then spent two years in Japan as a Postdoctoral Fellow at the Institute of Statistical Mathematics in Tokyo.
DNA from Museum Specimens

Rare and extinct animals sit in jars of alcohol in natural history museum collections around the world. These specimens provide a wealth of information on the changing biodiversity of our planet. These preserved snakes, lizards, frogs, fish and other animals can last up to several hundred years when processed in a chemical called formalin. While formalin helps preserve the specimen making it rigid and durable by linking proteins together, it unfortunately breaks up the long stretches of DNA that comprise chromosomes making the DNA harder to extract and sequence using traditional approaches. Therefore, scientists have not been able to effectively sequence DNA from these intractable specimens until now. Researchers at the Louisiana State University Museum of Natural Science developed a protocol of DNA extraction and leveraged new next-generation technologies to sequence thousands of genes from more than a dozen historic or rare snake specimens from all over the world many of which had never been analyzed using modern genetic methods. Some of the specimens were more than 100 years old.
We also integrated these data with modern samples to create a genetic family tree that maps evolutionary relationships. This work resulted in thousands of genetic markers for intractable snake specimens collected as far back as the early 1900s. Our technique will benefit scientists working with rare animals that are either hard to collect, endangered, or extinct but are represented in fluid-preserved historical collections. It also underscores the continued importance of museum collections in modern science.
Read More:
Phylogenomics using formalin-fixed and 100+ year old intractable natural history specimens, Molecular Ecology Resources