The Academic Minute for 2016.3.21-3.25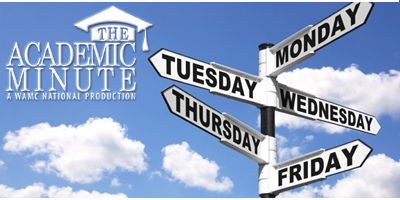 Academic Minute from 3.21 – 3.25
Monday, March 21
Edward Alessi – Rutgers University
LGBT Migrants
Dr. Edward J. Alessi is Assistant Professor at the School of Social Work at Rutgers, The State University of New Jersey. His scholarship investigates the effects of trauma and stress on the mental health of sexual and gender minorities; examines mental health practitioners' use of affirmative practice; and seeks to advance clinical practice with marginalized populations. His research has been published in journals such as Psychotherapy, Psychotherapy Research, Psychological Trauma, and Child Abuse & Neglect. Dr. Alessi recently served as guest editor for the Clinical Social Work Journal's first special issue on Clinical Practice with LGBTQ Populations. A clinical social worker since 2001, he has worked primarily in outpatient mental health and has been an independent practitioner since 2004.
Tuesday, March 22
Jack Gilbert – University of Chicago
Diversifying Your Microbiome
Professor Jack A Gilbert earned his Ph.D. from Unilever and Nottingham University, UK in 2002, and received his postdoctoral training at Queens University, Canada. He subsequently returned to the UK in 2005 to Plymouth Marine Laboratory at a senior scientist until his move to Argonne National Laboratory and the University of Chicago in 2010. Currently, Professor Gilbert is in Department of Surgery at the University of Chicago, and is Group Leader for Microbial Ecology at Argonne National Laboratory. He is also Associate Director of the Institute of Genomic and Systems Biology, Research Associate at the Field Museum of Natural History, and Senior Scientist at the Marine Biological Laboratory. Dr. Gilbert uses molecular analysis to test fundamental hypotheses in microbial ecology. He has authored more than 200 peer reviewed publications and book chapters on metagenomics and approaches to ecosystem ecology. He is currently working on generating observational and mechanistic models of microbial communities in natural, urban, built and human ecosystems. He is on the advisory board of the Genomic Standards Consortium (www.gensc.org), and is the founding Editor in Chief of mSystems journal. In 2014 he was recognized on Crain's Business Chicago's 40 Under 40 List, and in 2015 he was listed as one of the 50 most influential scientists by Business Insider, and in the Brilliant Ten by Popular Scientist.
Wednesday, March 23
Clay Calvert –  University of Florida
Filming Police
Clay Calvert is Professor and Brechner Eminent Scholar in Mass Communication at the University of Florida in Gainesville, where he also directs the Marion B. Brechner First Amendment Project.  He teaches both undergraduate and graduate-level courses on communications and media law issues, and he coordinates the joint JD/MA program for the College of Journalism and Communications.  Professor Calvert has authored or co-authored more than 125 published law journal articles on freedom of expression-related topics.  He is co-author, along with Don R. Pember, of the market-leading undergraduate media law textbook, Mass Media Law, 19th Edition (McGraw-Hill), and is author of the book Voyeur Nation: Media, Privacy, and Peering in Modern Culture (Westview Press).  Professor Calvert received his J.D. Order of the Coif from the University of the Pacific's McGeorge School of Law and later earned a Ph.D. in Communication from Stanford University, where he also completed his undergraduate work in Communication, earning a B.A. with Distinction.  He is a member of the State Bar of California and the Bar of the Supreme Court of the United States.
Thursday, March 24
Adam Brown – Sarah Lawrence College
PTSD Treatments
Adam Brown is a clinical psychologist and member of the psychology faculty at Sarah Lawrence College where he directs the Memory and Emotion Laboratory. He also holds an appointment as an Adjunct Assistant Research Professor in the Department of Psychiatry at NYU School of Medicine. He received his Clinical PhD from the New School for Social Research and completed a two-year Post-Doctoral Fellowship in the Functional Neuroimaging Lab at Weill Medical College of Cornell University. His research focuses primarily on applying cognitive and brain imaging techniques to study post-traumatic stress disorder (PTSD), the construction of autobiographical memory and self-identity, and social influences on memory. He is the recipient of grants from the National Institutes of Health, US Department of Defense, Fulbright, and private foundations.
Friday, March 25
Kang Zhao – University of Iowa
Predicting Future Box Office Success
Kang Zhao is an assistant professor at the Tippie College of Business, The University of Iowa. His research focuses on business analytics and social computing, and has been featured in media from more than 20 countries. He received his PhD from Penn State University.