Graham Hatfull, PITT – Bacteriophages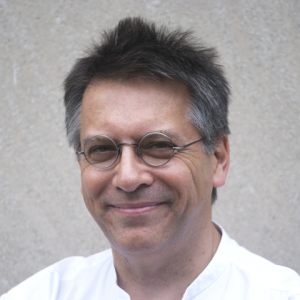 Viruses are all around us!
Graham Hatfull, biologist at the University of Pittsburgh, is working to decode their genetic makeup.
Graham F. Hatfull, Ph.D. Professor of Biological Sciences, Eberly Family Professor of Biotechnology, Howard Hughes Medical Institute Professor, University of Pittsburgh.
Dr. Hatfull is Professor of Biological Sciences at the University of Pittsburgh. He received a B.Sc. (Hons) degree in Biological Sciences from Westfield College, University of London in 1978, and a Ph.D. in Molecular Biology from Edinburgh University in 1981. He did postdoctoral work at Yale University in the Department of Molecular Biophysics and Biochemistry with Dr. Nigel Grindley, and at the Medical Research Council at Cambridge University, with Drs. Fred Sanger and Bart Barrell. He has been at the University of Pittsburgh since 1988 and served as Chair of the Department of Biological Sciences from 2003 to 2011.
Dr. Hatfull's research focuses on the molecular genetics of the mycobacteria and their bacteriophages. These studies take advantage of the intimacy of phage-host interactions to gain insights into the genetics and physiology of Mycobacterium tuberculosis, the causative agent of human TB. Through integrated research-education programs such as the PHIRE and SEA-PHAGES programs, the large collection of completely sequenced mycobacteriophage genomes provides insights into viral diversity and evolution, and represents a rich toolbox of new approaches to understanding M. tuberculosis. Development of vector systems, selectable markers, recombineering approaches, expression tools, and insights into mycobacterial biofilms reflect some of the useful applications of this genomic resource.
Highlights of Dr. Hatfull's research accomplishments include publication of more than 150 peer-reviewed research articles, 36 book chapters or reviews, and four books. He has received funding from the National Institutes of Health since 1989, mentored 20 Ph.D. students, over 100 undergraduate student researchers, and 16 postdoctoral associates. Dr. Hatfull has received the University of Pittsburgh Chancellor's Distinguished Research Award at both the junior and senior level, the University of Pittsburgh Chancellor's Distinguished Teaching Award, the Carski Award (ASM), and holds the Eberly Family Professorship in Biotechnology. He is a fellow of the American Academy of Microbiology, a fellow of the American Association for the Advancement of Science, and a teaching fellow of the National Academy of Science. He has been a Howard Hughes Medical Institute Professor since 2002.
Bacteriophages

Bacteriophages are the dark matter of the biological universe.
These tiny viruses that infect bacterial hosts are the most abundant organisms on earth and outnumber all other forms of life.  Yet the genomic analysis of just a smattering of phages shows that the population is highly diverse with many different types, and is replete with novel genes not seen elsewhere in nature. 
This should perhaps be no surprise, with such a large and dynamic population evolving for over 2 billion years.
But mapping and defining viral diversity is a tricky proposition.  One approach is to isolate individual phages from the environment, using a specific bacterial host. Their DNA is extracted, the genomes sequenced, the constituent genes predicted, and the entire collection analyzed. Isolation and comparison of over 600 phages using the host Mycobacterium smegmatis provides a high-resolution look at their diversity.  First, there are lots of different types and no two are exactly the same.
Moreover, the genomes are architecturally mosaic, constructed of interchangeable gene segments assembled in weird and wonderful combinations, just as the romans used colored tiles to construct mosaic artwork.  The phages clearly have been actively exchanging genes for a long time, and in fact form a continuum of genetic diversity, with the rare types having especially informative gene combinations.
Decoding viral diversity provides terrific opportunities for undergraduate students to engage in authentic scientific discovery. These student phage hunters are finally shining some light on the darkest corners of the biosphere.
Read More: eLife: Whole genome comparison of a large collection of mycobacteriophages reveals a continuum of phage genetic diversity