Jung-Ah Lee, University of California, Irvine – Caring for the Caregivers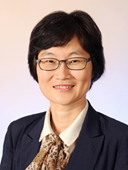 How do we help the caregivers?
Jung-Ah Lee, professor at the Sue & Bill Gross School of Nursing at the University of California Irvine, looks into this question.
Dr. Jung-Ah Lee is a nurse scientist and faculty at the Sue and Bill Gross School of Nursing at the University of California, Irvine. Lee focuses on gerontology with research on translational approach to improve care delivery and quality of life for patients and caregivers through a culturally sensitive approach. Through her research, she has designed dementia care education for older adults and families in partnership with local community organizations (e.g., Alzheimer's serving organizations, Caregiver Resource Centers, Korean Community Services, Vietnamese Community Services, Federally Qualified Health Centers, etc). As an educator, she has taught geriatric nursing, leadership and management, and research methodologies to UCI undergraduate and graduate nursing students. Dr. Lee was the school's inaugural Equity Advisor and founding chair of the Excellence in Diversity committee to enhance diversity, inclusion, and equity in the Sue and Bill Gross School of Nursing at UC Irvine. Her journey to improve health equity is on-going.
Caring for the Caregivers

Being a caregiver of someone with any health condition is hard, both mentally and physically. Cultural barriers can make it even harder.
As a researcher on aging, I realized while we often study the health of patients with illnesses such as dementia, we pay little attention to the family members who care for them. My latest study focuses on those often forgotten – the caregivers. My team is studying how providing culturally sensitive tools and information can alleviate caregiver stress.
The study engages family caregivers in underserved communities who often face language barriers, aren't aware of available resources, and many miss out on tools that can help with communication and overall caregiving. We also use wearable technology to monitor caregiver sleep quality and stress. We're filling a gap in dementia research and helping caregivers address the physical toll of caregiving.
What makes our study different are the home visits; we visit each caregiver's home and listen to their experiences. It seems simple, but we understand the impact of having someone from your cultural background listening and providing guidance.
This research is vital to understanding and strengthening the bond between caregiver and loved one. While there is work to be done, I'm confident we are providing much needed help to underserved caregivers.
Read More:
[UCI] – 'Anyone can get Alzheimer's. Anyone can be a caregiver.'
[UCI] – UCI Caregivers Study