Salma Monani, Gettysburg College – Mediating Human-Nature Relations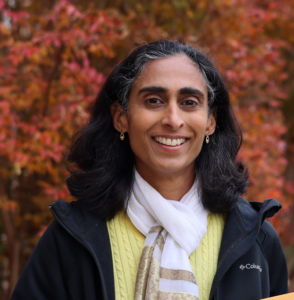 On Gettysburg College Week:  Streaming can be harmful to the environment.
Salma Monani, chair and professor of environmental studies, explores how to start to change this.
Salma Monani is an Environmental Humanities scholar and teacher.  She has extensively published on ecocinema studies, explorations of Indigenous ecomedia, film and environmental justice, and is co-editor of four ecocritical media anthologies. She is currently working on a monograph: Indigenous Ecocinema: Decolonizing Media Landscapes (contract with University of West Virginia). As part of her College's Land Acknowledgment Committee, her scholarship also engages the practice of digital, public eco-humanities along with community research with Indigenous partners.
Mediating Human-Nature Relations

It's really not hard to see that the twenty-first century is rife with environmental disruptions. Events such as wildfires and floods are witnessed, observed, and reported with increased frequency. They have become hypervisible in today's mediascape.
Ecomedia scholars like myself study media's environmental relationships. We are really interested in how the environment is mediated on screen, and also off screen.
So when we study the life-cycle of media from production to disposal, we debunk the myth that digital media is "green" because it is "paperless."
In fact, we know that the current growing appetite for faster streaming media involves increased energy use and greenhouse gas emissions.
Also, companies manufacture planned obsolescence, which means old devices can't be upgraded, and this fuels e-waste.
Sadly, the environmental benefits and harms of media are unevenly distributed.
Ecomedia studies doesn't just reveal such depressing realities; we also consider models of media equity and sustainability.
We study initiatives occurring at all levels from mainstream efforts such as by BBC and Netflix, to independent local efforts. For example, Canada's non-profit imagineNATIVE rethinks how to serve Indigenous communities and their focus on land stewardship.
Ecomedia scholars show us that media is environmentally harmful; it can also be deployed less harmfully.
Read More:
Ecocinema Theory and Practice 1
Ecocinema Theory and Practice 2