Kayla de la Haye, University of Southern California Dornsife – Uncovering the True Extent of Food Insecurity in the U.S.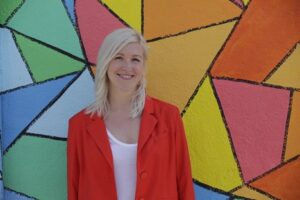 On USC Dornsife Week: How many people are food insecure in the United States?
Kayla de la Haye, associate professor of population and public health sciences, examines the data.
Kayla de la Haye is an Associate Professor of Population and Public Health Sciences at the University of Southern California.  She works to promote good health and health equity by applying systems science methods, and working with multi-disciplinary teams and community partners. Her research focuses on family and community social systems, and the broader neighborhoods and environments that people live in, to promote healthy eating and food security, and prevent chronic disease. Her research also explores how families, teams, and coalitions solve complex health problems together. Her work is funded by the National Institutes of Health, the National Science Foundation, and others. Dr. de la Haye holds a PhD in psychology from the University of Adelaide, Australia.
Uncovering the True Extent of Food Insecurity in the U.S.

Food insecurity, or not having enough food to maintain an active and healthy life, is surprisingly a pressing issue for many households in the United States, even though we are a wealthy country with abundant food. But, the true extent of this problem may actually be underestimated because of limits in the way data is collected.
The USDA and other government and health organizations often collect annual data on food access and food security, asking people about their experiences over the past year. But our recent study suggests that this method may be underestimating the true rate of food insecurity by as much as one-third.
We found that surveying households more frequently and focusing on recent experiences can produce more accurate data on food insecurity. In our study, we surveyed Los Angeles County residents 11 times throughout 2021, asking them about their recent food security experiences. Surprisingly, one-third of respondents who had reported food insecurity earlier in the year did not report it again in December 2021, when asked about their experiences over the entire year.
We found that memory plays a crucial role in the accuracy of these reports, because human memory is not as good at recalling events that are less frequent or further away in time. To improve the accuracy of food insecurity estimates, we recommend that the USDA and other agencies conduct surveys multiple times a year, focusing on shorter time periods, such as the past week or month.
Having accurate data on food insecurity is essential for public health organizations and policymakers, so that they can address the causes and consequences of these food issues effectively. This is also an important matter for food and health justice, because the people most impacted by hunger and challenges accessing food are women and communities of color.