Mark Warschauer, University of California, Irvine – Improving Children's Learning Through Interactive TV Shows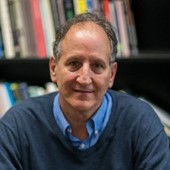 Kids loving talking to the TV, but what if it talked back to them?
Mark Warschauer, professor of education and informatics at the University of California, Irvine, explores how to make characters interact with the kids watching them.
Dr. Warschauer is a professor of education and informatics and has worked with students at all levels since 1977. Outside of teaching, Dr. Warschauer is the director of the Digital Learning Lab where his team is currently focusing on the use of conversational agents to support children's learning and on the teaching and learning of computer science for linguistically diverse students. He received his B.A. in psychology from the UC Santa Cruz, his M.A. in English (teaching English as a second language) from San Francisco State University and his Ph. D. in second language acquisition from the University of Hawai'i at Manoa.
Improving Children's Learning Through Interactive TV Shows

It is well established that children learn best through interaction and dialogue, whether in a classroom, when reading with a parent, or watching television. That is why most educational television programs often have the main character ask viewers questions and pause for responses.
Unfortunately, when Mr. Rodgers or Dora the Explorer pose a question, they can't understand the child's response, thus limiting what children gain from the interaction.
My research aims to create truly interactive video programming, to amplify children's learning gains and better leverage our country's substantial investment in developing educational television.
In a partnership with the Public Broadcasting Service (PBS), my team and I have produced dialogic versions of popular PBS KIDS science shows, to be watched on a laptop or tablet, where characters pose questions to viewer and respond with appropriate dialogue to the child's reply using a programmed conversational agent.
In two randomized controlled studies involving more than 300 four- to six-year-old children, we found that incorporating contingent interaction within video television programs helps children better digest and comprehend the science concepts discussed in the videos.
Results also show that children who watched the dialogic versions compared to the original show learn more science and academic vocabulary, and are more engaged in the learning process. 
Furthermore, children develop deeper connections with the characters.
At the end of our current grant, our interactive videos will be distributed for free on PBS KIDS online platforms that are accessed by more than 10 million visitors a month
I hope that with the findings of our studies and the interactive media we develop, parents and educators throughout the country will be able to better promote children's science learning and language development through interactive media.
Read More:
[Science Direct] – Contingent interaction with a television character promotes children's science learning and engagement