Dennis McCarty, University at Albany – The Quest to End Human Trafficking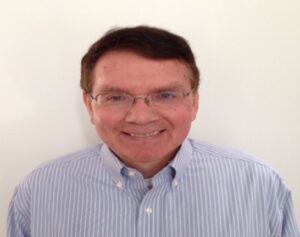 Human trafficking is not just fought in the shadows.
Dennis McCarty, lecturer at the University at Albany, says we all have a role to play.
Dennis McCarty, Ph.D., is a lecturer at the University at Albany. He worked for several criminal justice agencies before retiring as an Assistant Director at what was initially known as the New York State Office of Homeland Security. Professional honors include a Gubernatorial commendation for developing and coordinating the NYS Law Enforcement Counter-Terrorism Training Program following the attacks of 9/11. His volunteer work includes service with the Peace Corps in Guatemala, assisting residents of a shelter for domestic violence survivors, and helping vulnerable youths living on the streets of New York City. Academic honors include several teaching awards and the 2021 UAlbany Terra Award for helping the university earn national recognition as a Fair-Trade institution.
The Quest to End Human Trafficking

People often assume that only legislators and law enforcement personnel can take meaningful steps to fight human trafficking, one of the most lucrative transnational crimes in the world. The findings of a major research project recently challenged the validity of that belief.
The methodology included examining the work of individual activists and service providers such as social workers, health personnel, and mental health practitioners. Business professionals selected for review included convenience store managers and those in the lodging, tourism, airline, and transportation industries. Community influencers such as public officials, members of the press, spiritual leaders, and college instructors were studied as well.
The findings documented specific ways that individuals of all ages and backgrounds are making significant contributions. This finding is consistent with the work of earlier researchers who documented the impact that many unsung and often uneducated women made in the struggle to abolish slavery.  
The insights and lessons learned were organized into five types of activities: Raising awareness, political advocacy, prevention, reducing demand and shopping wisely, and assisting survivors. The report also included ideas for college instructors, student service projects, internships, and relevant career opportunities. The report's conclusion offers an easy-to-follow game plan for anyone interested in pursuing their personal antitrafficking interests.  
While the research focused exclusively on human trafficking, the broader takeaway is that each of us has more power to influence policy and help others than we often realize. Whether or not we choose to use that power, of course, is a decision that each individual has to make.
Read More:
[UAlbany Scholars Archive] – The Quest to End Human Trafficking: An Educational and Practical Guide for Everyone Who Wants to Help Break the Bonds and Assist Survivors