Keri Hurley-Kim, University of California, Irvine – Identifying Disparities to Improve Vaccine Rates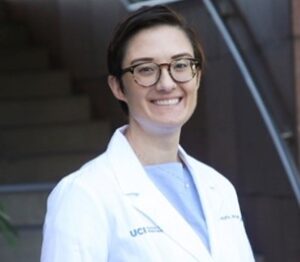 On University of California, Irvine Week:  Knowing who gets vaccinated more often, can tell us whom to target in future vaccine efforts.
Keri Hurley-Kim, associate clinical professor in the School of Pharmacy & Pharmaceutical Sciences, looks into the data.
Dr. Hurley is a pharmacy educator and has worked with PharmD students and residents at all levels of didactic and clinical education since 2014. Outside of teaching Dr. Hurley practices as a clinical pharmacist in primary care at a Federally Qualified Health Center and serves as steering committee vice chair for the Immunization Coalition of LA County. She is board certified in Ambulatory Care Pharmacy (BCACP) and holds the international certificate of travel health (CTH) from the International Society of Travel Medicine.
Identifying Disparities to Improve Vaccine Rates

Immunizations are the best way to protect society from infectious diseases. However, adult vaccination rates across the United States (US) have racial, ethnic, age-based, and other sociodemographic disparities.
While there are existing survey studies that describe some factors associated with vaccine disparities, it's difficult to connect these to health-related factors.
A database capturing demographic, lifestyle, health status, and socioeconomic variables is key to a deeper understanding of vaccine disparities.
Using the National Institutes of Health All of Us (AoU) Research Program, our study aimed to describe the disease burden, sociodemographic, and lifestyle characteristics of adults who had received influenza, HBV, HPV, and pneumococcal vaccines.
Through the AoU database, which aims to include more than 1 million adult participants, we described the characteristics of those vaccinated compared to the AoU cohort as a whole.
We found that Non-Hispanic/Latino and White participants over age 65 were more likely to have received a pneumococcal vaccination. This may be related to insurance status, income and education.
We saw the same trends for HPV, HBV and influenza vaccines.
In those under 65, Black or African American participants had the highest pneumococcal vaccine rates. This finding informs upcoming studies looking more deeply at the impacts of chronic disease diagnoses on vaccination status.
This study provides further evidence that race and ethnicity impact vaccination status. Our findings can also help inform strategic interventions that address differences in immunization rates to help improve them.