C. Michael White, University of Connecticut – Psychedelic Medication Reduces Anxiety and Depression in Cancer Patients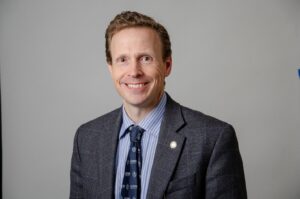 Is there a better way to treat anxiety and depression for patients with cancer?
C. Michael White, distinguished professor and chair of pharmacy practice at the University of Connecticut School of Pharmacy, considers the question.
Michael White, Pharm.D., FCP, FCCP, FASHP has ~500 publications resulting in 16577 citations with an H-index of 67; placing him within an elite group of researchers. Dr. White's research interests are in the areas of comparative effectiveness and preventing adverse events from drugs, devices, dietary supplements, and illicit substances. His work has been published in JAMA, Lancet, Annals of Internal Medicine and Circulation (among others) with research coverage by NBC Nightly News, Good Morning America, BBC, CNN, NY Times, Washington Post, LA Times, Boston Globe, PBSNewsHour, WNPR Morning Edition, Prevention Magazine, and hundreds of other (inter)national media outlets. He has received the American College of Clinical Pharmacist Young Investigator Award, American Society of Health-System Pharmacists Award for Sustained Contributions to the Literature and the Drug Therapy Research Award, and the American Association of Colleges of Pharmacy Lyman Award and the Weaver Award.
Psychedelic Medication Reduces Anxiety and Depression in Cancer Patients

About 10-20 of patients with cancer develop anxiety or depression but standard antidepressant drugs are not very effective. In a systematic review of five clinical trials, patients with advanced cancer underwent 1 or 2 psychedelic therapy sessions. They experienced reductions in depression scores of about 33% and reductions in anxiety scores of about 20% versus placebo. This led 50-60% of patients who received a single high-dose psilocybin session to achieve clinical remission for depression and anxiety in one study. Importantly, these anxiety and depression benefits were still maintained six months later.
Since psychotherapy enhanced with psychedelics like MDMA, the active ingredient in Ecstasy, and psilocybin, the active ingredient in hallucinogenic mushrooms, have previously been shown to positively impact post-traumatic stress disorder while traditional antidepressants are not as effective, it is possible that the trauma associated with the diagnosis and treatment for cancer leads to the anxiety and depression. There are three main limitations in these studies.
First, patients with a history of psychedelic use could enroll and skew the results.
Second, it is almost impossible to blind these studies since the placebo does not provide vision or color changes like the psychedelics.
Finally, as people are processing their trauma instead of repressing it during one of their sessions, the catharsis leads to marked elevations in blood pressure.
Future studies should be limited to psychedelic naïve patients, psychedelics should be compared directly against standard antidepressants, and people with significant cardiac disease should be excluded.
Read More:
[The Conversation] – Psychedelics may better treat depression and anxiety symptoms than prescription antidepressants for patients with advanced cancer