Shannen Dee Williams, University of Dayton – America's Real Sister Act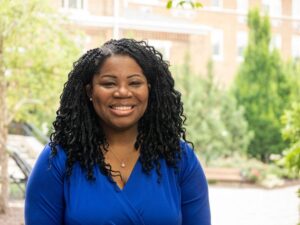 On University of Dayton Week:  Popular films can have a positive impact on certain groups, but the real history needs to be told as well.
Shannen Dee Williams, associate professor of history, explores this statement in one community.
Shannen Dee Williams is a historian of the African American experience with research and teaching specializations in women's, religious, and Black freedom movement history. She is the author of Subversive Habits: Black Catholic Nuns in the Long African American Freedom Struggle (Duke University Press, 2022), which received a starred review from Publishers Weekly. The book provides the first full history of Black Catholic nuns in the United States.
Williams is a member of the executive council of the American Catholic Historical Association and a Distinguished Lecturer for the Organization of American Historians. She holds a B.A. with magna cum laude and Phi Beta Kappa honors from Agnes Scott College, a M.A. in Afro-American studies from the University of Wisconsin at Madison, and a Ph.D. in History from Rutgers University.
America's Real Sister Act

For most people, Whoopi Goldberg's performance as Sister Mary Clarence in the Sister Act franchise is the dominant interpretation of an African American Catholic nun and the desegregation of a white sisterhood in the United States.
But the story of America's real sister act is far more compelling. It has also been long suppressed, and in many cases even deliberately erased.
Drawing on over 100 interviews, previously sealed Church records, and a host of other sources, I recover an overlooked chapter in the history of the long African American freedom struggle: specifically, the story of how generations of Black Catholic nuns fought against racism, sexism, and exclusion to make their Church authentically Catholic and their nation truly democratic.
Over the course of their nearly 200-year history in the United States, Black sisters overcame unimaginable obstacles and broke some of the nation's most difficult racial and gender barriers. They became pioneering religious leaders, educators, healthcare workers, desegregation foot soldiers, Black Power activists, and womanist theologians. Three extraordinary African American nuns are also on the current road to Catholic sainthood.
When confronted with a silenced past, the greatest responsibility of the historian—and the most radical thing any person can do–is tell the story that was never meant to be told.
Narrating Black sisters' histories reminds us that there has always been an articulation of US Catholicism that understood that the lives, souls, and futures of Black people matter. Telling their stories also serves as another cautionary tale about underestimating and ignoring the prevalence of anti-Black racism and misogynoir in religious communities.