Evan Larson, University of Wisconsin Platteville – Bringing People into the Wilderness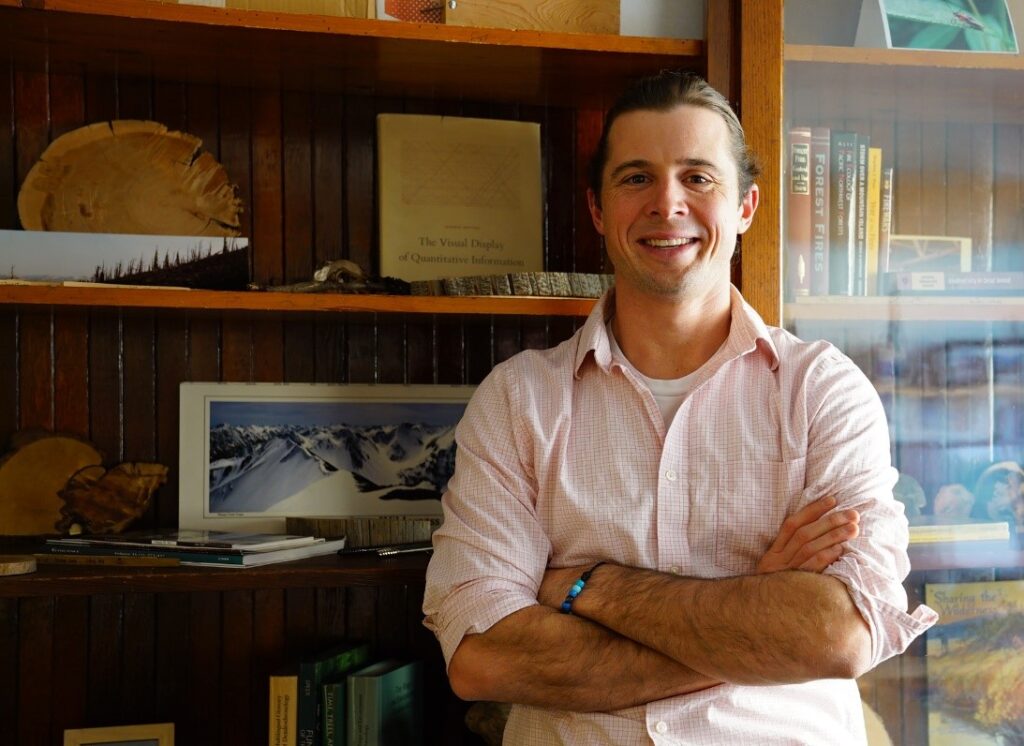 How we think of certain spaces may need to be reimagined.
Evan Larson, professor of environmental sciences & society at the University of Wisconsin-Platteville, looks at one example.
Evan Larson (he/him/his) is a Professor of Environmental Sciences & Society at the University of Wisconsin-Platteville, a primarily undergraduate institution in the beautiful rolling hills of the Driftless Area. His expertise in dendrochronology, the science of tree rings, and biogeography, the study of patterns in the distribution of life on Earth and the processes that shape them, enable him to combine scholarship, a love of teaching, and an enthusiasm for working outside into classes and research that blur the boundaries between the physical and social sciences. He is fortunate to work with amazing colleagues who together are re-storying the relationships among people, fire, and pine in the Great Lakes Region.
Bringing People into the Wilderness

I am going to say a word. I want you to listen closely, and then focus on the picture or sense this word inspires. Ready? Wilderness. Wilderness. Do you have it?
What did you see? Mountains? Dark forests? Lakes, rivers, crystal clear water? Boundless horizons? What about people? How do people fit into your picture of Wilderness? What about fire, flames, smoke? What is Wilderness, really? Are there implications of thinking of wilderness as unpeopled… empty of humanity and its influences?
The Boundary Waters Canoe Area Wilderness was one of the original protected landscapes established by the 1964 Wilderness Act. It is a magical place with hundreds of navigable lakes, interconnected by streams, wetlands, and portages.
New research in the field of dendrochronology, or tree-ring science, is helping tell a 500-year story of fire in the forests of the Boundary Waters as written in the rings of long-dead red pine trees. In some places fires maintained open forests and created the conditions necessary for new generations of red pine. This history also clearly illustrates how the area's indigenous people, the Anishinaabe, used fire to tend the landscape. The landscape that we think of today as wilderness. The lessons from these tree-ring data, alongside other evidence, weave together with Anishinaabe stories and traditional knowledge that celebrate fire as a process through which reciprocal relationships between people and land are built, nurtured, and maintained across generations.
Thinking of wilderness as unpeopled is dismissive of the long history of Indigenous people and their active participation in the community of life in this region and beyond. In the Boundary Waters, a history of fire makes long-term connections between people and place evident. It is reshaping our understanding of wilderness into a deeper and more meaningful connection between people and land with lessons about our responsibilities to each other and the world around us.