Alanah Mitchell, Drake University – Planning for the Best of Both Worlds in the Hybrid Workplace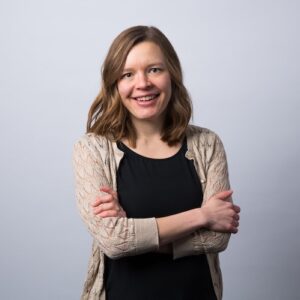 Hybrid workplaces could be the way of the future.
Alanah Mitchell, associate professor of information management and business analytics at Drake University, examines how to make them successful.
Alanah Mitchell is the Aliber Distinguished Associate Professor and Chair of the Department of Information Management and Business Analytics in the College of Business and Public Administration at Drake University. Dr. Mitchell's research focuses on the design, implementation, and use of information and communications technologies (ICT) for collaboration, specifically in global virtual teams. She has published over 50 peer-reviewed journal articles, book chapters, and conference proceedings. Dr. Mitchell regularly teaches both undergraduate and graduate courses in the areas of information systems and technology. Her research and teaching experience extends to executive education as well as speaking and other consulting projects.
Planning for the Best of Both Worlds in the Hybrid Workplace

The COVID-19 pandemic impacted organizations around the world, sending many employees out of the office to work from home. This transition from in-office work and collaboration to work-from-home and remote or virtual collaboration happened swiftly without much time for planning and preparation.
As we look towards the post-pandemic future of the workplace, many employees are looking forward to returning to the office full-time while many others are interested in continuing to take advantage of the benefits of remote work, to some extent, resulting in the organizational adoption of hybrid work policies allowing for a combination of in-office and remote work.
Fortunately, there have been decades of research studies exploring how to make virtual or remote work collaborations successful. Together with my colleague, we have identified several key insights for the planning of a successful hybrid workplace.
First, organizational leaders need to establish and support flexible work processes by providing employees with the resources and support they need to be effective both in and out of the office. Establishing clear communication channels and processes is a critical piece of this plan. 
Second, leaders need to intentionally emphasize and monitor team culture and development. Leaders need to pay careful attention that subgroups don't emerge based on employees in the office versus those out of the office. Leaders also need to ask for regular feedback and recognize and celebrate hybrid successes.
Finally, leaders need to plan for regular synchronous activity. Time spent together allows for the development of trust and confidence that is necessary for asynchronous work. However, synchronous meeting time should be thoughtfully planned so that it is recognized as valuable time spent together.
Overall, while preparation and planning for hybrid work does not guarantee success, intentional efforts can make the transition to a hybrid workplace more seamless.