Deborah Reisinger, Duke University – Virtual Study Abroad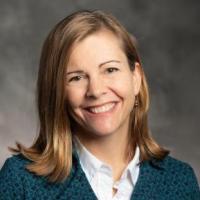 Can you study abroad from your own living room?
Deborah Reisinger, associate professor of the practice of French at Duke University, logged on to find out.
Deb Reisinger is Associate Professor of the Practice of French and Associate Director of Markets and Management Studies at Duke University. She is the author of Crime and Media in France, co-author of Community-based Language Learning, and lead author of Affaires globales: S'engager dans le monde professionnel en francais. She has been directing study abroad programs for the past 20 years.
Virtual Study Abroad

COVID's effect on international student exchanges has been devastating, and these past two years have hit study abroad programs particularly hard. With students unable to enter or leave the country, global education has faced difficult choices: cutting programs, reimagining revenue streams, and furloughing or even firing staff.
As a faculty member who takes students abroad each summer, the loss is felt equally hard. We lead these programs to challenge students by offering new ways of seeing and being in the world – key experiences that set the stage for transformative learning. For students working on their language proficiency, these programs are crucial immersive experiences, and often tied to completing major and minor requirements for their studies. For the professors who lead these programs, these 4-6 weeks serve as our own professional development, allowing us to stay abreast of social issues, trends, and even maintain our own fluency.
With study abroad programs slated to be on hiatus for a second year due to COVID, we decided to try a new model for our students that would immerse them in French culture: a virtual study away experience. (Yes, you heard that right.) Each student would participate in a virtual internship in France, and also take two classes via Zoom, one designed to support the internship experience by examining work culture in France, and the other focusing on aspects of Provençal identity, from art and culture to the history of immigration.
In end-of-semester evaluations, students all reported high levels of engagement, significant linguistic gains, and increased knowledge of – and interest in – French studies. We attribute the positive responses to motivated students, a highly structured and supported online environment, and access to an array of native speakers that included colleagues, bosses, and expert guest speakers from around the Francophone world. Looking forward, this model offers an approach to global education that is not only flexible for times like these, but also more affordable and more environmentally sustainable.