Robert Edgell, SUNY Polytechnic Institute – Humans and Outer Space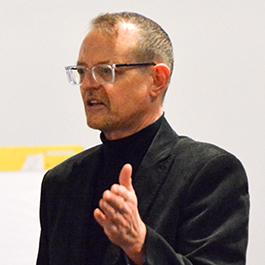 Space holds the future for the human race.
Robert Edgell, professor of technology management at SUNY Polytechnic Institute, looks beyond our planet for innovation.
Dr. Edgell is currently a Professor of Technology Management and Co-Director of the Joint Center for Creativity, Design, and Venturing at SUNY Polytechnic Institute. He directs Innovation Challenge New York (ICNY), an integrated community-based experiential learning, research, and service program and has been a recipient of the Chancellor's Award for Excellence in Teaching. He has been a Visiting Professor at the Swiss Business School in Zurich and has delivered research papers and lectures at Stanford University's Law School, the University of California San Francisco's School of Dentistry, the California College of the Arts, and the University of St. Gallen. Previously, he was an Assistant Professor at American University's Kogod School of Business where he was named Outstanding Faculty. Also, he has taught at San Francisco State University's College of Business.
Dr. Edgell has served in various leadership capacities as a department chair, interim dean, and on several committees. He was a former board member of the Cyber Security Institute at Griffiss Institute and currently serves as a board member of Sculpture Space. He has presented his scholarship, reviewed papers, and chaired sessions at the Academy of Management, the International Atlantic Economics Society, and the Association of American Colleges & Universities among others. His scholarship agenda expands upon his deep commitment to exploring the intersections among economics, human behavior, the humanities, art, and design. He currently researches institutional change processes, design culture, and entrepreneurial capacity development for outer space. His grant portfolio includes a prestigious $100,000 National Endowment for the Humanities (NEH) Humanities Connections grant, a $40,000 SUNY System Performance Improvement Funds, and a $25,000 NYSTEC donation for supporting his entrepreneurial Initiatives and related research. He has been recognized as a "Campus Connector" by Upstate Venture Ecosystems and has earned the Social Sciences Research Network (SSRN) top 10% of Authors designation based on total new downloads.
Dr. Edgell received his PhD in international multicultural management (magna cum laude) from the University of St. Gallen in Switzerland. He holds an MBA from Columbia University Business School in the City of New York and a five-year Bachelor of Architecture from Kent State University, College of Architecture and Environmental Design. Through Columbia's Chazen Institute of International Business, he studied at Erasmus University, Rotterdam School of Management in The Netherlands. He is a registered Architect and has studied at Harvard University, Graduate School of Design.
Humans and Outer Space

Should humans become space venturing?
Certain scholars posit that it may be necessary for humans to venture out beyond Earth's orbit. Despite immense barriers, space affords opportunities for continued human evolution, economic vitality, Earth and life preservation, and technological innovation. 
Permanent expansion into the cold harshness of space could spur innovation in high-value sectors such as energy, transportation, and manufacturing while helping Earth. Over the last two millennia, density has increased from a comfortable one to over 50 humans per square kilometer. This coupled with dirty technologies has not only strained Earth's land area, but also stimulated climate change. However, locating toxic manufacturing off-Earth could mitigate these risks and make the planet more ecologically sustainable and livable.
Imagine space service stations that would make mining feasible, lower the cost of exploration, and provide growth. An interplanetary economy with distant settlements might engender other benefits. Earth's geopolitical divisions may hinder experimentation with novel sociopolitical and economic arrangements. Yet other-world settlements could experiment and determine which forms of institutional organization work best given localized conditions. Settlers might tinker with alternative stakeholder firm models, distribution of wealth, and community contribution approaches.
So, the next time you gaze up into the expanse above, take a moment to contemplate how venturing out there just might make us better stewards down here.